South Pasadena High School
Alumni Association - 1907-2020
In Memory
Joseph 'Joe' Lewis Jr - Class Of 1936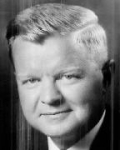 Joseph W. Lewis, Jr, son of Laura Rigg Lewis and Joseph W. Lewis, born September 7, 1918 in Wilkinsburg, Pennsylvania, peacefully passed away on February 20, 2013. He leaves his beloved wife of 70 years, Anne Beech Lewis; three children, Joseph W Lewis, III, of Shoreline, Washington, John R Lewis of Los Alamitos, California, and Katharine A Lewis of Rancho Santa Fe, CA; five grandchildren and three great-grandchildren.
In 1929 when Joe was 10 years old, his family moved to San Marino from Wilkinsburg. Joe attended South Pasadena-San Marino High School and graduated from the California Institute of Technology in 1941 with a BS degree in Mechanical Engineering. Joe and Anne were married in 1943.
Following Joe's service in the U.S. Navy during World War II, Joe and Anne moved to San Marino and lived there for 66 years. In 1995, the San Marino Rotary Club selected Joe and Anne as San Marino's "Most Distinguished Couple" for their extraordinary service to their community. Joe was active as a leader in Cub Scouts (Cub Master), the San Marino Community Church (deacon, elder, and Men's Club), the San Marino City Council (Vice-Mayor), Community Chest (President), San Marino Board of Education (President), San Marino Rotary (President), and Caltech (Alumni President). In 1986 Joe was named "Outstanding Citizen of San Marino". He was a vice-president at Beckman Instruments, Inc. and later owned and operated DBP Microwave, Inc. and DB Products, Inc.
Pasadena Star-News, February 26, 2013