South Pasadena High School
Alumni Association - 1907-2020
In Memory
Harry H 'Sam' Madley - Class Of 1938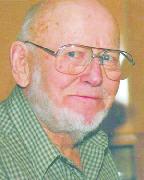 Harry Humphrey 'Sam' Madley passed away peacefully at home on February 3, 2015 at the age of 95, with his loving family by his side. He was born in a cottage on the Thaddeus Lowe Estate in Pasadena, where his father worked as master gardener and his mother as housekeeper. He and his sister Elizabeth (SPHS '36) attended South Pasadena schools, and were members of St. James Episcopal Church where Sam sang in the boys' choir.
While in grade school Sam decided to be an engineer and he saved money for college by working with his father after school at South Pasadena High School, where his father was Head Gardener. Sam graduated with honors from Cal Tech in 1942. That same year he met Lois Norman, his beautiful bride-to-be, with the recognition of love at first sight. They were soon engaged and married, hastened by Sam's enlistment in the Navy to join the war effort. Once out of the Navy, Sam began his career working for Signal Oil Company. Two years later, in 1949, he joined the newly formed Santa Fe Drilling Company. By 1956 he was elected Vice President, serving as Manager of Domestic Drilling Operations. He was elected Senior Vice President in 1967, and served as a Director of Santa Fe International Corporation. He retired in 1984 after 35 years of service. His work took him to many distant lands, from Venezuela to Kuwait, to Libya and Mozambique. No doubt his warm and wise nature made it easy for him to communicate with others everywhere he went.
Sam and his wife raised five daughters and then took an active role in the lives of ten grandchildren. He will be remembered by family and friends as a compassionate, perceptive man of gentle humor. Sterling qualities of humility, patience, and generosity made him an excellent mentor for those around him. He loved to sing and his fine tenor voice beautifully expressed his nature. He and Lois shared a deep love of music, a legacy passed on to his family. He was known for his natural aptitude with numbers, adept at guessing weight, ages, price stickers, and second-guessing the stock market. Following in his father's footsteps, Sam was in his element when gardening. On many an evening he walked about his neighborhood in the Fullerton foothills, a familiar figure striding along in an old straw hat. During his retirement years, Sam and Lois went on hiking adventures, made memorable trips abroad, and enjoyed the company of their family. They spent weeks at a time at their vacation home in Healdsburg, California, where they hosted family gatherings. Sam was a man whose kindness, steadfastness, loyalty and wisdom touched the hearts of those who were fortunate to know him, and he will be greatly missed.
He is survived by his loving wife of 72 years, Lois; by daughter Kathleen (Bruce) Dunham, daughter Susan (Jesse) Philips, daughter Mary Lynn Madley, daughter Christine Madley, and daughter Carol Jean Madley; 10 grandchildren; and six great-grandchildren.
Pasadena Star-News, February 15, 2015