South Pasadena High School
Alumni Association - 1907-2020
In Memory
David H Merrill - Class Of 1940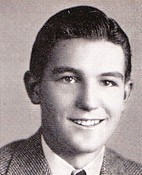 David Henry Merrill, M.D., on March 19, 2009, our dear David: friend, husband, father, stepfather, uncle, grandfather, Pops, Doc, died just after sunrise. That morning he and his wife Liz had a brief discussion regarding treatment options for his heart condition. After going back and forth for a while, the last thing he said to her was, "Lizzie, you don't know sh#% about medicine, but I love you anyway." Minutes later he had a heart attack, going "out feet first" as he used to say. Quick, simple, no theatrics. He was right where he wanted to be, in his beautiful home on the beach, with his loving wife of 45 years. Two days later, a number of his family gathered to celebrate his 87th birthday. At sunset, as per his request, several family voices, ukuleles and a violin played "Danny Boy." The group toasted to the late great guy who we all loved so dearly.
A graduate of Dartmouth College, David went on, with the help of the Navy, to receive his Medical Degree from New York University in 1947. He then returned to Pasadena, where he spent his childhood, to do his residency at Los Angeles County Hospital. David went on to practice at Huntington Hospital where he was born. He knew all the staff by name and will always be remembered by his whistling which filled the hosptial halls.
In 1974 he took on the position of Chief of Staff at Huntington. David also had a private practice for 40 years in internal medicine. He is fondly remembered as one of a dying breed of old time doctors. Driving to house calls in his 1956 Roadster Porsche with his black leather case (which still sits in his closet), and never turning down a patient for lack of funds. He loved family vacations, tennis, fishing, reading for the blind, drawing cartoons, telling jokes, stories, and above all laughing. David was a wonderful father to nine children. He had three by his first marriage to Ann Findelsen Merrill (deceased): Tim (Joanie) Merrill, Blandy Merrill, Lolly (Jaime) Stafford. He then gained six stepchildren in his marriage to Liz: Emily Galli, Peter Stratton (deceased), Sarah (Bob) Balla, Maggie (David) West, Jane Stratton, and Katie (Steve) Zelko. He is also survived by eleven grandchildren; Rachel, Megan, Gus, Anna, David, Lizzie, Peter, Frannie, Sarah, Laura, and Robin.
Throughout their life together, David and Liz took in countless "extended" family members who were always welcomed into their home for meals, a bed, and a game of pool or poker. Everyone who knew him loved him, and friends and family were truly valued above all else. He never had a shortage of amazing people with whom to share his life. The family gathered the weekend of April 5th for a simple ceremony to scatter David's ashes in his bougainvillea garden and in the sea in front of his and Liz's oceanside home in Santa Barbara. He will continue to be loved by all who knew him.
Pasadena Star News, April 5, 2009