South Pasadena High School
Alumni Association - 1907-2020
In Memory
Alfred F 'Al' Nibecker - Class Of 1937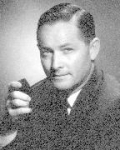 Alfred Franklin Nibecker, 92, passed away October 6, 2012 after a courageous battle with Alzheimer's. Al was born January 16, 1920 and was the son of Alfred and Mabel Nibecker of South Pasadena. He graduated from Pomona College in 1942, where he met and married his first love, Ednah "Eddie" Wilmar.
Al joined the Navy, and went to Harvard Business School before serving in World War II where he was stationed in the Philippines. Al built a successful career as an executive for Sears Roebuck Company for 37 years. Al was a man of great integrity, who was respected by all who knew and loved him.
He was predeceased by his first wife, Ednah, and second wife, Marilyn "Billie" Nibecker, as well as his sister Corinne (SPHS '39) Banker, his brother Robert Nibecker (SPHS '44). He is survived by his four children, Lynne (Calvin Worley) Lasater of Walnut Creek; Alfred (Sandy) Nibecker Jr of Hawaii; Merily (Bill) Jaxheimer of San Gabriel; and Don (Becky) Nibecker of Ventura; stepdaughters Marilyn (Lou) LeVeque of Dana Point and Laurie (Jim) Arnold of Lafayette, California. He is also survived by nine grandchildren, six step-grandchildren, and eight great-grandchildren, with a ninth due to arrive soon. Also, he leaves behind his beloved younger sister, Evelyn (Philip) Cutting (SPHS '54), and sister-in-law Lois Wilmar, as well as numerous nieces and nephews.
Pasadena Star News, October 24, 2012