South Pasadena High School
Alumni Association - Classes of 1907-2020
In Memory
George Wilkes Peabody - Class Of 1936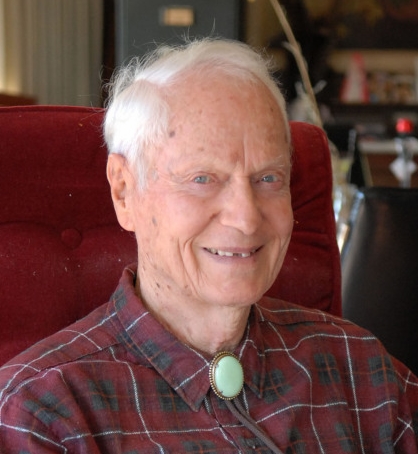 George Wilkes 'Bud' Peabody, one of the foremost historians of El Dorado County, died of colon cancer December 6, 2014; he had recently celebrated his 96th birthday. Born October 23, 1918, George grew up in Southern California, attending South Pasadena High School and Pasadena Junior College. In 1942 he married Patricia Davies and went to work for Lockheed Corporation as an aircraft manufacturing engineer and started a family.
In 1944, George took a two-year leave of absence from Lockheed and enlisted in the U.S. Marines. He was a replacement rifleman in the Fourth Division, 24th Marine Regiment during the battle of Iwo Jima. He was severely wounded after 10 days of battle, almost losing his right leg, an injury that continued to plague him the rest of his life. After a lengthy recovery, he went back to work for Lockheed, retiring in 1974.
After retirement, George, Pat, and their four sons moved to El Dorado County. As a member of an ad hoc committee developing a land use plan for the county, he was recruited to identify and document historical resources. With his typical enthusiasm and attention to detail, George amassed a wealth of information and a collection of stories from old-timers and created a catalog of historical mining sites, long-forgotten roads, railroads, flume locations, and topographical features. The collected stories turned into a book titled, "How About That?"
George was also a genealogist, wrote poetry, and published stories in Californian Historian. He was instrumental in developing El Dorado County's distinctive official seal and getting the Crawford Ditch on the National Registry of Historical Places. He was a member of both the El Dorado Historical Society and the Heritage Association. He was also an avid amateur astronomer who wrote articles for the Mountain Democrat and he and his wife Pat, led guided tours to the best sites in the county for viewing.
Widowed in 2010, George is survived by his four sons; seven grandchildren; and nine great-grandchildren. He will be dearly missed by many friends and his family.
Mountain Democrat, December 12, 2014