South Pasadena High School
Alumni Association - Classes of 1907-2020
In Memory
Mabel Pierce (Stout) - Class Of 1934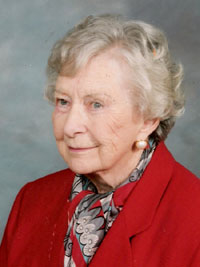 Born in East Orange, New Jersey, October 24, 1916, Mabel Pierce Stout died of cancer on October 28, 2005, at the Sequoias, San Francisco where she had lived for nearly 10 years. One of five children, Mabel grew up in Southern California, graduated from UCLA with an art major, then completed an MA in Occupational Therapy at Columbia University.
She had two careers and lived and traveled worldwide. Mabel joined the Army and worked at Letterman Hospital. Shr reached the rank of Captain when she resigned in 1950. As a civilian she taught college courses in Occupational Therapy. She was also an artist and lived for some time in Thailand and in Japan where she developed her talent as a potter, observing the work of the masters. Returning to San Francisco, she lived in a home in Noe Valley full of the treasures collected on her travels and her own pottery and paintings. She also enjoyed the company of her cats. An active member of CLIR, senior program of the University of California Extension, she immersed herself in literature, music, theater, and bridge, and exhibited paintings every year.
Mabel is survived by her daughter Amy of San Francisco; a sister, Eleanor Milnes of Michigan, and generations of nieces and nephews.
Findagrave