South Pasadena High School
Alumni Association - Classes of 1907-2020
In Memory
T. Alexander Pond - Class Of 1942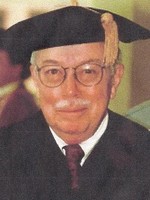 Distinguished educator and physicist Alexander Pond, a visionary leader who led a distinguished, varied career of service to several American universities, died peacefully at his home in Arlington, Vermont on August 29, 2010. He was 85.
Dr. Pond was instrumental in the creation of what is now Stony Brook University in New York. He was chairman of its Department of Physics from his arrival in 1962 until 1968. His authorship of the proposal which resulted in the Einstein Chair in Physics to which 1957 Nobel Laureate C.N. Frank Yang was recruited, secured a pivotal event in the Department's evolution. He then turned to the challenges facing the entire University community when named Acting Executive Vice President of the State University of New York at Stony Brook in 1967, an appointment which became permanent a year later. He served as Acting President on three occasions before returning to the Department of Physics as Leading Professor in 1980. In 2001, Stony Brook University was granted admission into the Association of American Universities (AAU), the invitation-only organization of North America's best research universities.
After leaving Stony Brook in 1982, Dr. Pond joined Rutgers, the State University of New Jersey, as its Executive Vice President and Chief Academic Officer, as well as University Professor of Physics. He served in these positions, and as Acting President for ten months (1989-90), until his retirement in 1997. Dr. Pond broke his retirement briefly to serve as Acting Senior Vice President for Academic Affairs at the University of Medicine and Dentistry of New Jersey. He and his wife then split time between residences in New Jersey and Vermont, relocating to Vermont fulltime in 2004. After his wife's passing, Alex's daughter and her family resided with him through his remaining years.
Thomas Alexander Pond was born December 4, 1924 in Los Angeles, California to Arthur and Florence Alexander Pond. Upon his graduation from South Pasadena - San Marino High School, California, he enrolled in Princeton University. He enlisted in the United States Naval Reserve as an Apprentice Seaman just after his 18th birthday. In active duty lasting from 1943 through 1946, he rose to the rank of Ensign, retiring aboard the USS Mount McKinley as the Senior Ensign Afloat. He remained in the Naval Reserve until 1953, retiring as a Lieutenant. Alex returned to Princeton to complete his undergraduate work, earning his AB in 1947. He continued studies at Princeton earning his AM (1949) and PhD (1953), both in Physics. He then spent the next eleven years as a teacher, first at Princeton, then at Washington University of St. Louis.
Alex was predeceased by his wife of 48 years, the former Barbara Newman and by his brother, Arthur Pond (SPHS '39). He is survived by two children, four grandchildren, and two great-grandchildren. He is also recalled with love by three nephews, a niece, and an extended family of students and colleagues around the world.
Bennington Banner, September 11, 2010