South Pasadena High School
Alumni Association - 1907-2021
In Memory
August Alan Post - Class Of 1931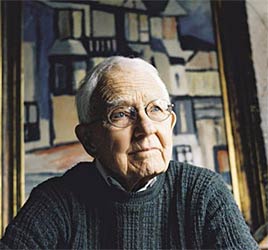 A. Alan Post, the longtime legislative analyst who watched over the budgets of California governors from Earl Warren to Jerry Brown, has died. He was 96. Post, who also was a well-regarded artist, died March 26, 2011 of natural causes at his home in Sacramento, California.
During Post's years in Sacramento, he saw the state go from "a veritable outpost of the continental United States to one of the largest and most important political entities in the world," he told the Los Angeles Times in 1977 as he approached retirement.
The legislative analyst's office provides lawmakers with nonpartisan counsel on fiscal issues. Most years, Post drew his biggest headlines for his recommendations about the state budget. "Our mission is primarily a cold-blooded one...trying to get down to what the state can afford," he told the California Journal in 1970. A Times editorial during his last week in Sacramento said Post had "felt the rage of more than one governor for killing pet projects that did not measure up to his criteria - and the slim, cool, tweedy analyst was the winner in most of the confrontations."
Former Governor George Deukmejian, who spent 16 years in the Legislature during Post's tenure, told The Times that Post's influence "was extraordinary...You always had the feeling that he and his staff were arriving at their positions simply based on the facts and not with any bias."
August Alan Post was born September 17, 1914, in Alhambra, California, the second of four children of Edwin Post, a developer, and his wife, Edna, a teacher. They settled in South Pasadena but were forced to move to a farm in Lancaster, CA. during the Depression. He earned a bachelor's degree from Occidental College in 1938 in economics and art afer having to leave college for three years to work at a bank in downtown Los Angeles to help support his family. He also earned a degree from what was then called the Chouinard Art Institute in Los Angeles.
In 1940 while studying for a doctorate in economics at Princeton University, he met and married Helen Wills, who was a painter and later became a sculptor. David Post said his father completed his exams for a doctorate but didn't finish his dissertation, instead returning to California to teach economics at Occidental. He served in the Navy from 1943 to 1944.
After briefly working for the State Department and in Utah, Post headed to Sacramento in 1946 as the chief economic and administrative analyst for the Legislature's joint budget committee.
The Post's built their own home in Sacramento and he dug their swimming pool.
Post became acting legislative auditor in 1949, getting the job the following year. The title eventually was changed to legislative analyst. He was asked to become the state's finance director shortly after Ronald Reagan was elected governor in 1966. He declined.
"If you did that, you'd be committed to a political party and to to a political figure," he explained in 1972. "The legislative analyst position is the most interesting job from the standpoint of my talents that is available." Post was once a Republican but changed his voter registration to "decline to state."
After retiring in 1977, Post painted, taught, and traveled. He went to Iran several times in the late 1970s as a consultant. The Posts also owned a house in Spain. Helen Post died last year.
In addition to his son David, a painter and retired attorney in Sacramento, Post is survived by three grandchildren and two great-grandchildren.
Los Angeles Times, April 1, 2011