South Pasadena High School
Alumni Association - Classes of 1907-2020
In Memory
Francis Marvin Sahl - Class Of 1936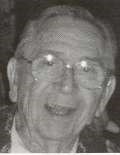 Francis Marvin Sahl went into eternal retirement on April 22, 2009 at the delightful age of 90 years and 50 weeks. Marvin was born in Los Angeles on May 6, 1918 to Morris and Sarah Sahl of South Pasadena.
Marvin graduated from South Pasadena High School in 1936. He marched and played several instruments in the Tournament of Roses parades during his high school years. He served in the US Army 1942 - 1945. He married Arlyne Abrams in 1938 and three beautiful and talented daughters were born from this union. Arlyne predeceased him in 1970 after an eight year battle with breast cancer.
Marvin went into the insurance business in 1963 as an agent of New England Life Insurance Company. His career was long and extensive and he was still at his desk up to only a few weeks before he left us. Late in 1977 Marvin met Jayne Warren at an insurance conference (Jayne was a licensed agent of the Met at that time) and shortly thereafter, Jayne joined New England Life and a partnership, Jaymar Insurance Associates, was formed to work together. Marvin married Jayne in 1981 and added two teenagers to his life. The family he left behind includes his wife, Jayne Sahl; daughters, Gale Edelberg, Lois Spanier, and Michele Sahl; six grandchildren and one great-grandchild; and two step-children. He was predeceased by his parents and brother Ethan Sahl (SPHS '31).
The Desert Sun, May 21, 2009