South Pasadena High School
Alumni Association - 1907-2020
In Memory
George Sato - Class Of 1940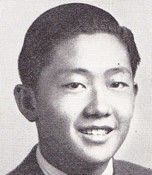 George Sato, M.D., beloved pediatrician for generations of St. Louisans, passed away peacefully on February 5, 2013. Born on July 19, 1922 in Carlsbad, California and raised in South Pasadena, he was a star track and field athlete, setting high school track records in 1939 that still exist today. He was a sophomore at UCLA when World War II forced him and his family into the internment camp in Gila River, Arizona in 1942.
Thanks to the generosity of Washington University Medical School (WUMS), George left Gila River to begin his legendary career in pediatrics. Besides helping hundreds of patients daily in his private practice, he was a clinical professor, and in 1982, was awarded the WUMS Alumni Association award for dedicated service.
George loved photography, camping, fishing, and most of all, gardening. He married his devoted, brilliant wife, Marjorie Soohoo in 1948, and is survived by Marjorie; his brother, William (SPHS '39); his four children, Steve, Rick (Mary), Nancy (Ken Yasuda), and Randy (Lisa Cornell); his seven grandchildren; and his four great-grandchildren; and 11 nieces and nephews.
St. Louis Post-Dispatch, February 15, 2013