South Pasadena High School
Alumni Association - 1907-2021
In Memory
Elizabeth Searles (Pankey) - Class Of 1934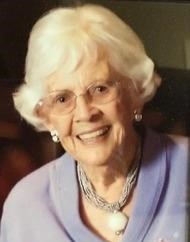 Elizabeth 'Libby' Searles Pankey
September 7, 1917 - October 19, 2021
Elizabeth 'Libby' Searles passed away peacefully at home of natural causes, entering eternal life and gaining her angel (butterfly) wings. She was 104. Libby was born in Canandaigua, New York to Charles and Ila Searles. Libby and her two sisters, Kathryn (SPHS '34) and Barbara (SPHS '33), her brother Charles and their parents moved to Pasadena in 1926 to escape the cold weather.
Libby attended Pasadena Junior College, then transferred to Pomona College, where she met and married Ed Pankey in 1939. Ed's father said he would pay for their honeymoon to Niagara Falls IF they waited until after smudging season. They had been married 63 years when Ed passed away in 2002. Ed was part of a pioneer family in Orange County, where they raised their four children farming in Fallbrook, Tustin, and Yuma, Arizona, and ranching in the Chino and Bishop areas.
Libby is survived by her children Vic and his wife Elena, Kimo and his wife Chris, Roberta and her husband Roger Sweet, Pete and his wife Mona; 10 grandchildren, and 18 great-grandchildren. Libby was president of her PEO chapter and president of Town and Gown of Chapman University. She was an active member of Freedom Foundation National Board of Directors, Tustin Presbyterian Church, PTAs of Tustin Schools, Boy Scouts Outdoor Education Center, World Affairs Council of Orange County, Hillsdale College, Baja Bush Pilots, Boys and Girls Club of Tustin, Tustin Area Council for Fine Arts, Clare Boothe Luce Policy Institute, Tustin Area Historical Society, Member Tustin Pioneer Council, and a Cub Scout leader among others. She received honorary doctorate degrees from Hillsdale College and from Chapman University.
Ed and Libby were US delegates to the British Labor Conference at Windsor Castle, and in 1975 were invited by the Chinese Government to acquire fireworks for the USA bicentennial celebration. She and Ed wrote 'Love of the Land' which recaps the family's history from the 1860s. Libby and Ed hosted, in their home, the first AFS exchange student to Tustin in 1959, as well as over 30 state department dignitaries from around the world. She walked with kings, yet always kept her rural roots.
Libby was a world traveler, SCUBA diver, and private pilot. She was an eternal optimist, believed in lifelong learning, brought happiness to so many, especially to her family, and was well respected and admired by all.
Orange County Register, October 29, 2021