South Pasadena High School
Alumni Association - Classes of 1907-2020
In Memory
Charles M Secor - Class Of 1940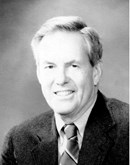 Charles (Chuck) Secor, age 94, died January 23, 2017. Born in Yonkers, New York on August 7, 1922, the family later moved to South Pasadena. When it came time for college, Chuck returned to the East and was educated at Dartmouth College. The US Navy sent Chuck to Stanford Medical School during World War II. In the Korean War Chuck served in the US Army Medical Corps. During these years Chuck and his first wife (Pauline Elliott) raised four children. In 1953 Chuck began his private practice in orthopedic surgery in Marin County, eventually retiring in 2006, ending a 53-year career in medicine.
Chuck loved the out-of-doors and the natural world. He spent as much time as he could backpacking in the Sierras, tending a backyard garden, beekeeping, raising greenhouse orchids, fishing, and photography. He had been an early member of the Squaw Valley ski patrol and sailed his Cal 2-30 to Hawaii with his two sons and a 10-year-old grandson. Long before it was fashionable, Chuck commuted to his medical office and to the hospital on his bicycle. He took up flying and obtained his pilot's license in both glider and power aircraft. Knitting sweaters for everyone in the family, studying the French language, and reading the New Yorker each week absorbed him when he finally came inside due to inclement weather.
Upon retirement at the age of 83, Chuck took up golf and bridge and delivered Meals on Wheels with Sally and together they cared for a menagerie of pets. There was never a dull moment in this man's life. The survivors include: his wife, Sally Secor of Ross, California, son Christopher (Barbara) Secor of Bend, Oregon, daughter DeLainie (Peter) Read of Piedmont, son Douglas Secor of Stinson Beach, daughter Wendy (Steve) Smit of Healdsburg, California; and six grandchildren and seven great-grandchildren. This towering man will leave a void in the life of everyone who knew him, in addition to a lot of great memories. Au revoir dear Chuck.
Marin Independent Journal, February 4, 2017