South Pasadena High School
Alumni Association - Classes of 1907-2020
In Memory
Richard Eugene Sheahan - Class Of 1940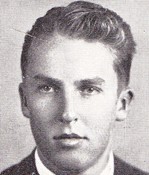 Richard 'Dick' Sheahan, beloved husband, father, friend, irreverent storyteller, moved to greener pastures on June 22, 2014 in Jackson, Wyoming. He was 91.
Dick woke up every day in wonder that something new and exciting was going to happen. He whistled while he wheeled gravel in his wheelbarrow, puttered in his basement or threw tennis balls to his adored German shepherds. An Irish man with a twinkle in his eye, his sense of humor elicited belly laughs from family and friends. Dick played the gut-bucket and harmonica, leading his family and friends in song. He gained his energy from the people around him, and at social gatherings had the ability to encourage even the shyest person to share her life story.
Born on August 23, 1922 in South Pasadena to Mayme and George Sheahan, he joined older brother, Bob (SPHS '34). After high school Dick enrolled at the University of Oregon in the fall of 1941. It was at a freshman mixer where he was smitten by the willowy and beautiful Dottie Case (SPHS '41), and they married in 1943. He enlisted in the Army Air Corps, where as a celestial navigator, he guided C-46 and C-47 troop and cargo carriers in the Asiatic Pacific theater. Post-war, he flew occupation personnel to Japan and Berlin in C-54s.
Dick and Dottie purchased their first home in San Marino where their first three children were born. Then, to the surprise of their friends, they moved to Santa Barbara in 1951 where Dick started his own swimming pool business. Dick was the quintessential California lad who loved body surfing, tennis, skiing, sailing, and camping. In 1960 they purchased property with a one-room log cabin near Grand Teton National Park which they visited every August with their family.
Dick became business manager at Sidwell Friends School in Washington, DC, from 1962-64, then assumed the same role at The Thacher School in Ojai from 1964-69. In 1969 Dick became director of development at Abbott Academy in Andover, Massachusetts. In 1978, the Sheahans moved back to Ojai where Dick became director of admissions and later directed fund raising efforts for The Thacher School Centennial Campaign, remaining until his retirement in 1989.
At 67, Dick and Dottie moved to Wyoming full time. To embrace their new life, they not only bought mountain bikes, downhill skis and a canoe, but also purchased a snowmobile to access their cabin as the road into their home was not plowed in the winter. They had countless adventures snowmobiling or crosscountry skiing in and out of the ranch until the road was finally plowed year-round in the mid-90s. During retirement, Dick served as an advisor on various boards in Jackson, including the Jackson Hole Conservation Alliance and St. John's Hospital. He helped raise funds to build the Jackson Hole Senior Center and was a regular at Rotary Club.
In the end, it is hard to imagine a world without Dick Sheahan. He touched and brightened so many lives and thus came to the end of his life surrounded by so much love. We will remember Dick as a kind and thoughtful man who was quick with a smile and some lighthearted words of support and advice. Dick is survived by his wife of 71 years, Dottie Sheahan; daughters Kathleen Reid (Kemble White), Susanne (Blake) Wilson, Marnie (Tony) Paulus, Caroline Sheahan; son Casey (Tara) Sheahan; and six grandchildren.
Ojai Valley News, July 23, 2014