South Pasadena High School
Alumni Association - Classes of 1907-2020
In Memory
Gilbert Irvine Smith - Class Of 1940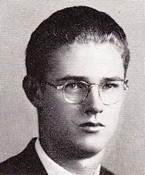 Gilbert Irving Smith passed away peacefully at home on November 5, 2014. He was 91 years old. He was loved and respected by many folks. He was born in Pasadena on September 4, 1923. He was a gifted student and enrolled at Cornell University at the age of 16. He was graduated from Cornell three years later and he promptly started medical school. He graduated from Cornell's medical school in 1946 and did his residency in urology at New York Hospital and the University of California at San Francisco.
He served as a Captain in the Air Force as a doctor. Gilbert's medical practice flourished in San Jose, California. He had operating privileges at many hospitals including O'Connor Hospital and Good Samaritan. He was Chief of Staff at Good Samaritan for many years. After he retired from the practice, he volunteered at UCSF training residents. His passion for medicine never ceased.
He loved the out of doors. He had a group of buddies called the Menopausal Marching Society who went into the Sierra every year for 10 days. They would emerge from the woods dirty and hairy and intoxicated with the beauty of California. Gil was the last surviving member of the clan. If you ventured into the woods with him, you had to be prepared for his regular quizzes. Since he knew the name of every California wildflower, whether in the mountains or in the desert or the beach, he expected the same of you. He often remarked, "Seeing the flowers each year is like greeting old friends." He loved tending his garden, especially his roses.
Gilbert stood for strength, optimism, and honesty. For his family, if we ever experienced a hard time, he stood tall and said, "You will be ok, everything will work out." He loved to sail, fish, and hunt. He was an avid flyer and every family member had his or her story of near death experiences with dad in the pilot's seat. He would fly to remote landing strips in small towns in Mexico and British Columbia in search of fish or birds or adventure. Toward the end of his life he fell in love with painting. His plein air canvases of Marin adorn the walls of the family home and those of friends and family everywhere.
The love of his life was his wife, Linda. They married in 1994 and lived happily in Marin. They loved to travel and told stories of their many trips throughout the world. Gil is survived by Linda, his four children, Terry, Scott, Kim, and Tory; three step-children and nine grandchildren.
Marin Independent Journal, November 7, 2014