South Pasadena High School
Alumni Association - Classes of 1907-2020
In Memory
Fletcher Hawley Swan - Class Of 1941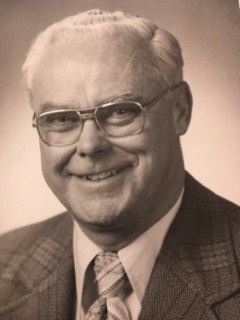 Fletcher Swan passed away on April 12, 2017, at the age of 94. He was a long-time South Pasadena resident, businessman, and city leader.
He attended El Centro Elementary School, South Pasadena Junior High School, and graduated from South Pasadena-San Marino High School in 1941. Fletcher served in the US Army Air Corps, was attached to the 9th Air Force Adjutant General, and was in Paris on VE Day.
He joined his parents, Fletcher and Minnie Swan, in the family business, Swan Stationery Store on Mission Street. The store moved to its home on Fair Oaks Avenue in the late 1960s. His wife Marilyn, and daughters, LIbbie and Molly, also worked at the store over the years.
Fletcher served on the South Pasadena City Council and served two terms as mayor, from 1974-1976 and from 1978-1979. He was instrumental in developing the Community Redevelopment Agency for the Monterey Hills (Altos de Monterey). He also served as the president of the South Pasadena Exchange Club, the South Pasadena Chamber of Commerce, the Oneonta Club of South Pasadena, and remained an active member of the Rotary Club of South Pasadena until shortly before his passing. He also served on the board of the South Pasadena High School Alumni Association.
His passions were railroading, photography, and writing and, over the years, he combined these loves and wrote and published several articles for various train magazines and South Pasadena's 'Quarterly' magazine. He became quite well known for a photo he took on January 25, 1948 of a Santa Fe engine that had run through a wall on the south side of Union Station and was hanging over Aliso Street. A copy of the photo has been on display at Philippe's on North Alameda Street in Los Angeles for years.
Fletcher is survived by his daughter, Molly (SPHS '70), and his long-time companion, Madalynne Coleman Wardlow (SPHS '41). He was preceded in death by his wife, Marilyn, and his daughter, Libbie Swan Bussen (SPHS '67).