South Pasadena High School
Alumni Association - Classes of 1907-2020
In Memory
Ross Swickard - Class Of 1942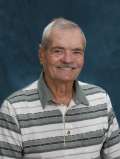 Ross Harold Swickard, 85, passed away in Simi Valley, California on April 7, 2010, after a long and courageous battle with cancer. He was a former resident of Zephyr Cove, Nevada, and Palm Desert, California.
Ross was married for 64 years to the love of his life and best friend, his wife Mary. The loving father of Linda Asmus (Don) and Dennis Swickard (Suzanne); grandpa to five and great-grandpa to three; and loving brother to Don Swickard (SPHS '43).
Ross was born November 12, 1924 in Los Angeles, California. He grew up in San Marino during the Great Depression and had a deep appreciation for hard work and dedication to family. At 18, he joined the U.S. Navy and proudly volunteered for submarine service. Stationed in Dutch Harbor, Alaska, Ross served in the North Pacific on the S-41 and S-42 and in San Diego on the S-30. In late 1944 he was transferred to the Mare Island Submarine Base aboard the SS-381 Sandlance and in early 1945 continued submarine war patrols in the Pacific from Pearl Harbor and Midway. In January 1945, at Mare Island, Ross met Mary, also in the Navy. They knew each other for only four days before they became engaged. After his honorable discharge, they were married in 1946 in Pasadena. Ross raised his family in the San Gabriel Valley, worked in the family business, The Strand Theater, attended USC, and after a long career with the Pasadena Star-News, along with Mary, owned and operated the Swickard Huntington Hardware in San Marino.
Retirement brought him to his home in Zephyr Cove, Lake Tahoe where summers were spent boating and beaching with family and friends. Ross loved traveling with Mary, especially RV'ing to the Palm Springs area during the winter and eventually settling into a winter home in Palm Desert. Ross enjoyed people, talking politics or about most anything and was especially proud of his family, German heritage, and volunteer work in the Cove. He was especially proud his many years on the board of the Zephyr Cove Water District, and his 28 years on the board of the Tahoe Douglas Sewer District. He enjoyed a good game of bridge with friends and with his buddies at the South Lake Tahoe Senior Center and the Palm Desert Senior Center. Ross was an avid reader and loved watching USC football. He will be greatly missed by his family and friends who loved him dearly.
The Desert Sun, April 16, 2010