South Pasadena High School
Alumni Association - 1907-2020
In Memory
James Humphrey Torrey - Class Of 1935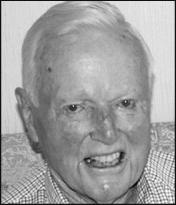 James Humphrey Torrey, age 93, died December 28, 2010. He will be greatly missed by a wide assortment of family and friends.
Jim was born on October 10, 1917 in Wilkes-Barre, Pennsylvania to Douglas Jay Torrey and Josephine Harvey Torrey. He lived in Pasadena, California from 1925 to 1938 and graduated from South Pasadena High School. In 1940 he graduated from Yale University with a BA in Economic Science. Jim married his long-term sweetheart, Hetty Bixby, on February 14, 1942. She died in 2006 after 64 happy years of marriage. Jim and Hetty are survived by their four children; Lonnie Snyder and her husband Phil of Tulsa, Oklahoma, Jody Hodges and her husband Dave of Ashland, Oregon, Jane Torrey and her husband John Clapp of West Hartford, Connecticut, and James H. Torrey, Jr. and his wife Leslie of Grafton, Massachusetts. In addition, they are survived by 14 grandchildren and 16 great-grandchildren. Jim is also survived by his brother Peter Torrey of Carlsbad, California. In 2008 Jim married fellow Duncaster resident, Lilly Biscoe.
Upon graduation from Yale, Jim joined the Naval Reserves where he helped to organize and train women military personnel (WAVES) at Smith College. He then served actively in both World War II and the Korean War, retiring from military service in 1954 with the rank of Lieutenant Commander. Jim was a corporate leader and financial expert. He spent his post-war business career at Connecticut General Life Insurance Company, later CIGNA, until his retirement in 1977 serving as Chief Investment Officer and finally Executive Vice President of CIGNA and serving on the CIGNA Board of Directors from 1964 to 1985. Jim used his substantial financial skills to support his community by serving on Boards of Directors and finance committees of a wide array of organizations and companies, including Pennsylvania Central Railroad, Hartford Hospital, Trinity College, The University of Hartford, the Greater Hartford Easter Seals Rehabilitation Center and the Hartford Tennis Club. He was also an enthusiastic benefactor and supporter of Yale where he forged life-long friendships both as a student and later in life.
Jim was instrumental in envisioning and creating Duncaster, a full-service senior living facility in Bloomfield, CT that has become a model of excellence for other such facilities around the country. Jim has lived at Duncaster for the last 13 years, continuing to work on its behalf. He often fished in the Duncaster Pond.
Jim was a fine athlete, once ranked #1 in junior tennis doubles in California and lettering in both football and track his freshman year at Yale. Later, he became an avid golfer, fisherman, and all-round outdoorsman, always ready to express his love of nature and wildlife. Even later he became an enthusiastic competitor in the Duncaster ping-pong, pool, and croquet tournaments. Jim and Hetty spent most of their summers in Siasconset, where they filled their house with family and friends from May until October. We will remember Jim with a twinkle in his eye and a spring in his step; beloved father, grandfather, great-grandfather, brother, mentor, and friend.
The Hartford Courant, January 4, 2011