South Pasadena High School
Alumni Association - Classes of 1907-2020
In Memory
Richard Bartell Tyson - Class Of 1937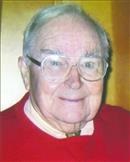 Richard Tyson passed away in Pasadena, California on August 8, 2016. Preceded in death by his wife Mary, he is survived by daughters Candis (Roger) Ipswitch, Julia (Tom) La Grua, and Brooke Tyson; and grandchildren Flannery, Rosemary, and Beatrice La Grua.
Born May 23, 1919 in Tacoma, Washington, four month old Richard and his parents moved to California. Raised in South Pasadena, Pasadena, Altadena, and San Marino, he attended Oneonta, Polytechnic, South Pasadena-San Marino High and Pasadena Junior College where he met a gorgeous 15-year-old girl named Mary Webster and fell in lifelong love.
Following the attack on Pearl Harbor he entered the Navy V7 program at USC and was commissioned an officer serving on sub-chasers, destroyer escorts, and the battleship California. He earned his Juris Doctor from Southwestern Law School and practiced criminal law in Pasadena for over 50 years, taking particular pleasure in the years spent in partnership with his daughter Candis.
Richard was a member of the Overland Club, the Valley Hunt Club, Pasadena University Club, and Pasadena Rotary. He served as Chairman of the State Bar Committee on Criminal Law and Procedure and was a Past President of the Pasadena Bar Association. He received the Pasadena Bar Association's Donald R Wright Distinguished Service Award and the Criminal Courts Bar Association's two major awards, the Jerry Giesler Memorial Award in recognition of his dedication to the defense of persons charged with crimes, and the Joseph Rosen Justice Award as outstanding trial lawyer. He loved his family, USC football, duck hunting, and albacore fishing, and was a raconteur par excellence.
Pasadena Star-News, August 20, 2016