South Pasadena High School
Alumni Association - 1907-2020
In Memory
Russelle Francis Ward - Class Of 1940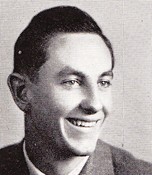 Russelle "Russ" Ward, 83, a mechanic for 20 years at the Craftshop at Fort Ord, California, died May 14, 2003 at Salinas Valley Memorial Hospital. He was born February 21, 1920, in Long Beach and lived in Salinas for 32 years.
Russ served in the U.S. Army for 27 years. He served under the command of General George Patton during World War II in France and Germany. He also served in Japan, Korea, and Vietnam. He collected toy trains for many years and enjoyed working crossword puzzles.
He is survived by his wife of 26 years, Dorothea Ward of Salinas; three stepsons, Anton Ellis Tuomi of Glendora, and David and Clay Van Winkle, both of Santa Rosa; a sister, Dale Ward of Pebble Beach; three grandchildren and a great-grandchild.
Monterey County Herald, May 17, 2003