South Pasadena High School
Alumni Association - Classes of 1907-2020
In Memory
Jack M Williams - Class Of 1941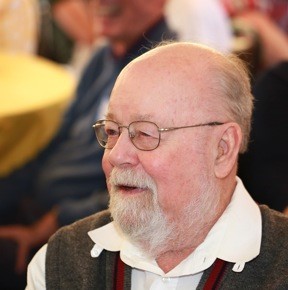 Jack Williams, born August 14, 1923, passed away December 20, 2015, at age 92, of dementia and just old age. Jack is survived by his children: Kathryn (Kit) of Encinitas, California, Brad of Jacksonville, Florida, and Duncan, of Temecula, California; nine grandchildren, five great-grandchildren; and generations of nieces and nephews.
Jack had a wonderful, full life, a marriage made in heaven, and he lived to be 92, which became his goal when he was 16. He was one of the approximately 25 who attended the SPHS 70th class reunion in Pasadena in 2011, and he remained close to about a dozen classmates and their spouses, all throughout his life.
Like most in his class, his college career was cut short, and he became a P-38 pilot in the Philippines in the Army Air Corps/Force. He married Mary Elizabeth Graybell (Meg from Altadena) in June '46, raised a daughter and two sons, and lived happily ever after until Meg's death in 2002. In early 2003, Don Williams '45, his widower brother came to live with him and they had four golf-filled years until Don's passing. In 2009 his daughter and he joined forces and he was well-taken care of during the last six years of his life. He was an accountant by trade, had an appliance store in San Marino for a while and loved politics.
Kathryn (Kit) Williams, daughter