South Pasadena High School
Alumni Association - Classes of 1907-2020
In Memory
William Kirby Yates - Class Of 1940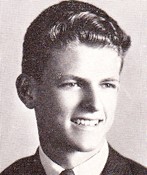 Captain William Kirby Yates, USN, Ret. of Mystic, Connecticut, died peacefully on February 15, 2009, at Lawrence & Memorial Hospital in New London from complications of the flu. He was 85 years old.
Bill graduated from the US Naval Academy in 1947, and had a distinguished career in the Navy including command of the USS Snook, the USS John Adams, the Naval Submarine School in Groton, and Chair of the Department of Strategic Warfare at the Naval War College in Newport, Rhode Island.
Following his retirement, he pursued a 10-year career in civilian defense industries while also devoting himself to peace and justice concerns, including the Nuclear Freeze movement and Witness for Peace.
A beloved member of St. Marks Episcopal Church since 1967, Bill was unwavering in his commitment to his church and community. He was a founder of the Memorial Garden at St. Marks and chaired their recent renovation campaign. He was a founding contributor and treasurer of the Mystic Flag Committee, as well as a founding contributor of the Mystic River Park. He enjoyed renovating his former home in Mystic and studied to become a Master Gardner in the process.
Bill is survived by his wife, Pauline M. Yates; four children, Steven K. Yates of Peachtree, Georgia, Mary Kirby Yates Gillispie of Santa Barbara, California, Kathleen B. Yates of San Jose, CA, and John B. Yates of Washington, Massachusetts; as well as five adult step-children, sixteen grandchildren and three great-grandchildren.
************
I was privileged to serve in the crew of USS John Adams, with Captain Yates. He administered the Oath of Office and swore me in as an Army Warrant-Officer in July 1966. I am a retired minister of the gospel, live in Alabama. I have been an admirer of Captain Yates for many years and extend my deepest sympathy to the family.
May our God bless you and comfort you by His word and presence. Thank you for the man he was.
Robert L. Tackett