South Pasadena High School
Alumni Association - 1907-2021
In Memory
Mary Joanne Boller (Southard) - Class Of 1966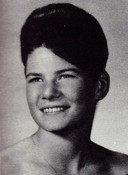 Mary Joanne Southard died at home on March 8, 2010 after a courageous and hard fought battle against cancer. Mary will be remembered best for her passionate love of animals, especially those in need of special care. She dedicated her life to animals, professionally as a Veterinary Technician and personally by tending to what came to be known affectionately as Mary's Zoo. The "Zoo" consisted of various dogs, cats, rabbits, raccoons, at one time a flying squirrel, a horse, and cattle. Some were pets and some were injured or abused animals requiring special attention.
Mary grew up in Alhambra and later South Pasadena, California. She graduated from Cal Poly Pomona and began her career as a secretary. However, her animal calling ultimately led her from the business world to veterinary medicine first in Canoga Park and later in Bakersfield. She moved to Glennville, CA to pursue her interests in animals and ranching.
Mary is survived by her mother, Gertrude Boller of Long Beach, CA; two brothers, Carl Boller (Jan) of Manlius, New York, and Bill (Holly) Boller (SPHS '64) of Saratoga, CA. Also surviving Mary are a cousin, Dale Boller (Susan) of Denver, Colorado; nephews Eric Boller and Matthew Boller; and nieces, Jennifer Ritter, Tracy Boller Perkins (James) and Hillary Boller.
The Bakersfield Californian, March 14, 2010