South Pasadena High School
Alumni Association - 1907-2023
In Memory
Philip T Rozok - Class Of 1966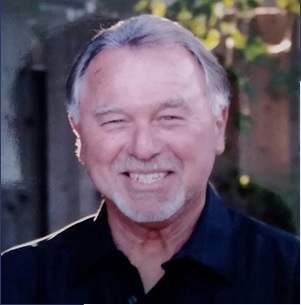 Phil Rozok had put in a long day on May 18th. It began at 3:00 am. No need for an alarm clock-let's roll. He checked in for work at the airport at four. He finished work at ten and had just enough time to clean up and head to his second job at Costco, where he put in another shift from 11:00 am-5:00 pm. A quiet evening was all he wanted. His heart was heavy with the loss of his brother David. Just six days earlier. David, the all-league football player. David, the older bro he looked up to. Fought with. Talked with about girls. Played over-the-line. His best bud. Gone. He kept David's loss to himself for two days. Didn't even tell Lisa or the girls. Just the way he had to do it. He wanted a little time to himself to process everything. That was how Phil did things.
The girls were out with friends tonight. Just dinner with Lisa. TV and a light chat. He had work again tomorrow so he went to bed early, missing the evening ritual-hugs and kisses for Quincey and Madison. A last, 'sleep tight' from Lisa as she soothed his soul with David's passing. As he settled in, something told him that he would dream tonight, and the dreams would be deeper and more meaningful. Maybe a double feature was in-store. And dream he did...
It was 1929 and the country was in shambles. Walter and Ulita Rozok immigrated to the US from the Ukraine. Life was very difficult. They settled in Alberta and had three children, Peter, Bonnie, and Ruth. Dad was gone for long stretches, and mom was always afraid of the wolves and bears that lurked outside. They outgrew the small one-room house and moved to Vernon, British Columbia in 1936. They lived off the land and shared a farm with another family. Times were tough and everyone worked. Nothing went to waste. Over the years came Irene, Edward, Lily, and David. Phil was born on a cold, November day in 1947. Mary, the ninth child, arrived in the fall of 1949. Dad had become an Orthodox Baptist minister, and by 1952, it was time to begin a new life in America.
Phil tossed and turned. Another movie began running...the car rumbled down the road to East LA. Nine children. Packed in like sardines. A baseball team and two managers. When you're only five you get squinched. Phil hoped better times lay ahead-someday, he might have his own room. Maybe even his own car. The family settled in South Pasadena. Dad got a job at Helms Bakery and mom worked overtime on the home front. Nine kids under one roof was semi-controlled mayhem. The kitchen table was host to hot dogs, homework, confession, and contrition. Personal space was sacrosanct. Time in the bathroom more precious than plutonium. Sunday was church and pot roast. Phil was a good athlete and played baseball and football at South Pasadena High where he graduated in 1966. His only vice was cinnamon rolls.
The night wore on. A mockingbird was singing its heart out in the neighborhood. Like tomorrow would never come...the family moved to Santa Barbara in 1972 and Phil worked at various jobs until he found a home at United Airlines. No two days were the same and he enjoyed the variety and pace of transportation. The biggest bonus was free travel. His passport read like James Bond: Bangkok, Paris, London, Lisbon, Sydney, Hong Kong, Rome, Berlin, Moscow, Madrid. Another love was his '65 Mustang. He finally got that car he always wanted. His baby. An indulgence. A reward for the long hours and hard work. He lovingly restored it. She was off-limits unless you were family.
He was in his forties and life was great, but something was missing. He loved hanging out near the Hertz counter where an absolutely, drop-dead gorgeous blonde worked. She had been a corporate manager/trainer and traveled to 43 states. Maybe she was ready for something more permanent too. As the story goes, she chased him for three years until he caught her. That first kiss remains to this day. Tender and warm. Lisa saw in Phil what the world saw...a renaissance man. A photographer. Athlete. World traveler. A gentle soul who could calm storms-never raising his voice. Who was kind, generous and genuine. Above gossip. Never judgmental. Live and let live. Phil had a knack for making others feel good about themselves. He was humble, hard working and happy. The wedding was at Fess Parker Hotel. He was 45 and Lisa 32. He shed happy tears and the crowd roared with delight.
Phil smiled in his sleep. Must have been the love movie that was playing in his theater. The highest of highs came with Quincey and Madison. The arrived three years apart. The world's two, most beautiful girls. Millions of giggles, cuddles, and pancakes. Several trips to Hawaii, Palm Springs, and Disney World. He broke the Guinness Book of Records for most photographs taken of one's children. 1,538,912 to be exact-mostly of Quincey, her friends, and cheerleading, and Madison slugging softballs, volleyballs, and shooting hoops. He was a carpooler extraordinaire, and a certified Girl Scout Leader (seriously). World's greatest dad-discussion over.
Phil stirred a bit as he headed into REM sleep. Deep into the night. When colors are more vivid. Sounds are louder. Things more crisp...he opened his Green Trunk. The one he kept all these years. Dating back to high school. Full of musty newspaper articles, sports stories, pictures and silly stuff you save from your boyhood. Stuff you can't bear to part with. He kept digging into the trunk and found the newer treasures. The cast from Madison's broken leg. Old airplane tickets of trips the family had taken. Some finger-paint pictures the girls had done in grade school. Pictures that would humble Matisse. Even a couple of bags of peanuts from the trip to Seattle. Better keep those. They don't even give them out anymore. Mementos of a lifetime. Treasures. Worth more than all of Fort Knox.
Deeper. Deeper into the dream he went. He was at the airport. Of course. He was in the boarding area. He wasn't working, rather, he was taking a trip. Everyone was there. Look at the turnout. The terminal was packed. Mom, Dad, Peter, Bonnie, Ruth, Irene, and Lily. God, there's Eddie and Mary Ann. And, this can't be, there's David with a football. What does he want? Play catch, right here inside, like we used to do in the house? Don't let mom see us. And look who else is here. Every friend I ever had. New and old. The gang from United Airlines. Friends from the kid's schools. The checkers at Albertsons. Friends from South Pas and Santa Barb. There's Stephen, Suzy and Addie. Hey, there's my boyhood pal, Terry Shepro. This is amazing. I can't believe it. I almost don't want to wake up. This is such a sweet dream. I'm getting closer now to the ramp. The one where you head down into the plane. There's my girls at the door. God, they are so beautiful. And, Lisa. The love of my life. Their arms are open and reaching toward me. They have my Green Trunk on a little carrier with wheels. So that I can take it with me. Down the ramp. Can't forget that. I turn the corner and it must be morning. It is light and warm. Bright, you might say. I guess it must be time to get up. Time to go to work. I'm not sure.
The voice I hear is comforting and soothing. He's speaking softly to me, saying, "Phil, I'm bringing you home. It's time for you to come and be with me now. You've done well. Very well, indeed my son. Time for you to come home."
Philip Timothy Rozok passed away peacefully in his sleep at home on May 19, 2015. He leaves behind his loving wife, Lisa; his daughters Quincey and Madison; a loving family; a gaggle of friends, and an old Green Trunk.
Larry Sleep, Santa Barbara Independent, May 27, 2015