South Pasadena High School
Alumni Association - 1907-2021
In Memory
Stephen Joseph Merrill - Class Of 1969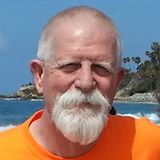 Stephen Joseph Merrill, 65, passed away, after a long battle with cancer on May 19, 2016 at Clarehouse in Tulsa, Oklahoma. He was born April 29, 1951 in Norton, Kansas, to James and Ella Mae McConkey Merrill.
Steve graduated from South Pasadena High School and continued his education at the University of Oregon, University of California Irvine, and Azusa Pacific College. He held a Bachelor's of Arts in History with teaching credentials, as well as a Master's of Administration in Education. Steve was a Nursing Home Administrator for 25 years, retiring in April 2016.
In June 1978 he married the love of his life, Susan Brooks in Arcadia, California. In 1989 they moved to the family farm in Lenapah, Oklahoma, then in 2004, he and his family moved to Tulsa. His wife, children, grandchildren, and other family members each held a special place in his heart. He loved the Lord Jesus and enjoyed sharing his joyful faith with others. Many report how he encouraged and inspired them along their own life's journey. He will be missed by all who knew him.
Steve is survived by his wife, Sue; children, Brian (Misty) Merrill of Tulsa, Adam (Katie) Merrill of Tulsa, and Lindsay Merrill of Kansas City, Kansas; brother Geoffrey Merrill (SPHS '66) of South Pasadena; grandchildren, Braden Tucker, Leland, Ollie, and Annie Mae Merrill; nieces, Catrina Merrill (SPHS '94) and Caroline Merrill (SPHS '96), and nephew Patrick Merrill (SPHS '98); as well as many other relatives and a host of friends.
Tulsa World, May 29, 2016