South Pasadena High School
Alumni Association - 1907-2023
In Memory
Albert Byrns 'Al' Adams - Class Of 1955 VIEW PROFILE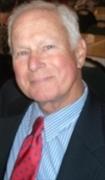 Surrounded by his loving family, Al's life ended on June 12, 2015, after a courageous struggle with heart disease. In his last weeks, he talked about feeling lucky for the life he lived. In conversations and exchanges with those on his path, he showed great love, and demonstrated peace and acceptance as his time here drew to a close. Al is survived by his devoted wife, Carol; his three children, Roger, Carrie, and Alice; his grandson, Buster; and many extended family members and friends.
Al was born in Los Angeles on October 5, 1937, to Albert Byrns Adams and Mignon Callish. He graduated from South Pasadena High School. He enlisted in the US Army and served his country in Viet Nam as a sergeant in the Special Forces. He trained and worked as a medic, and while in Viet Nam, discovered his love for teaching English. Upon returning home, he married his sweetheart, Carol. In January 2015, they celebrated 49 years of marriage.
Al attended UC Berkeley and graduated from UC Riverside with a degree in English and a teaching credential. For two years, Al and Carol served in North Carolina as community organizers for VISTA as part of the War on Poverty program. After returning from North Carolina, Al taught middle school language arts in the Oak Grove School District. He loved teaching and belonged to several professional organizations where he held leadership positions. Al enjoyed giving workshops and sharing his teaching ideas and expertise. He reluctantly retired after 30 years of service in the teaching community.
In retirement Al became an active member and volunteer for History San Jose, the San Jose Jazz Festival, and the Oak Grove Retirees Association. He loved making and giving gift baskets for fund raisers and friends. He enjoyed feeding the backyard birds and taking daily walks, greeting friends and strangers alike. He loved playing trivia games and often possessed the leader board for NTN trivia games. He enjoyed playing Scrabble with friends and family, rooting for the SF Giants and being with his grandson. He loved spending time with family and friends. Al loved traveling, especially taking cruises. He was a terrific ballroom dancer. He loved road trips and relaxing at vacation stops. He loved sharing laughter with those around him. His latest and now on-going project, shared with his grandson, involves providing flags to neighbors and friends for displays of patriotism on appropriate holidays.
Al is remembered for his love of family, his kindness, generosity, strength of character, community spirit, and his wit and laughter.
San Jose Mercury News, July 3, 2015
Click here to see Albert Byrns 'Al''s last Profile entry.