South Pasadena High School
Alumni Association - Classes of 1907-2020
In Memory
Charles Frank 'Chuck' LaRock - Class Of 1956 VIEW PROFILE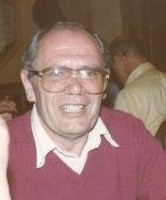 Charles 'Chuck' LaRock, 75, died August 28, 2014, after bravely fighting cancer for the past three months. In his last days he was surrounded by his children Bob, Carol, David, Michelle, and Kathy.
Chuck was the 'baby' in the family of nine children and raised seven children. Many of his children credit him for 'saving their lives' when he married their mom in 1966. In the last few years, Chuck was reunited with several siblings after many years apart. His daughter Michelle and her fiance Greg, were honored to spend the last five years having him in their home.
He spent the first 45 years of his life in South Pasadena, and the next 30 years living in Incline Village (Lake Tahoe), Nevada, working as bartender and bar manager. He touched the lives of many locals and was known to make the best drinks around. Many people remember him from Gus's BBQ in South Pasadena, the 'early' days at Panchos, The China Chef, Jerseys, Flamingos, Grumpy's and finally Billy's in Incline Village.
He was known for loving all sports including USC football, LA Dodgers, LA Rams, Sprint Car Racing, and Nascar. In earlier years, Chuck was very involved in the South Pasadena Little League baseball. He was also an avid body surfer/boogie boarder, taking his kids to Bolsa Chica Beach weekly and Newport Beach for summer vacations. Chuck loved being the Commissioner of the Grumpy's Fantasy Football League for many years. He peacefully passed away the same time the 2014 draft was taking place.
Chuck is survived by siblings Bob, Johnny (SPHS '56), Louise, Barb, and Carol; children Bob '74, Don '76, Carol '76, David '79, Michelle, and Kathy; grandchildren Linda Bernal '07, Allie Bernal '09, Paul, Alicia, Marguerite, and Sonya; and many close friends.
South Pasadena Review, October 2, 2014
Click here to see Charles Frank 'Chuck''s last Profile entry.