South Pasadena High School
Alumni Association - 1907-2023
In Memory
Harry L Hathaway - Class Of 1955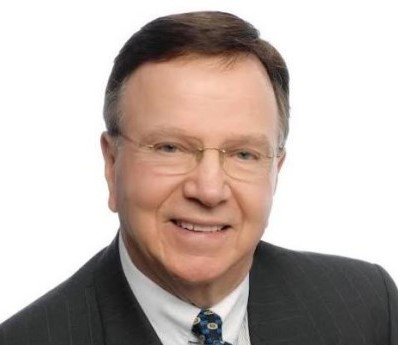 Harry Hathaway
May 8, 1937 - October 5, 2023
Harry, 86, a prominent Los Angeles attorney and former Los Angeles County Bar Association President, died at home peacefully after a long illness.
Harry, a former resident of San Marino, was a partner with the law firm of Norton Rose Fulbright, managing the LA office of many years, eventually retiring in 2016. Before moving to Fulbright, he had been the managing partner of the LA office of Hill, Farrer & Burrill. Harry was a talented business and corporate transactional lawyer, whose strength was his practical approach to dealing with complex business problems. He loved his work and truly cared about his clients with whom he often maintained long relationships. Throughout his career, he held volunteer leadership positions in numerous professional organizations, including the American Bar Association and the Los Angeles County Bar Association, where he became president in 1990, a time when the group as the largest local voluntary bar association in the nation. Early in his career, Harry joined the Young Lawyers Division of the ABA, became a member of the board of directors, and subsequently headed the division. Later, he became a member of the ABA House of Delegates, ABA Journal Board of Editors and the ABA's Finance Committee and Board of Governors. He also served as president of the American Bar Endowment and the ABA Retirement Fund, and chaired numerous committees. Harry was elected as a member of the prestigious Chancery Club of Los Angeles in 1971, where he served as president.
Harry was born at Huntington Hospital, the second of two sons born to Austin and Fletcher Hathaway. A gifted athlete, he was recruited out of South Pasadena High School to play football at the University of California, Berkeley, where the legendary Joe Kapp was his teammate. While at Cal, Harry also participated in the US Army's Reserve Officers' Training Corps. Following his graduation from Cal in 1959, Harry received his law degree from USC. While in law school, Harry met his future wife, Betsy Falkenburg of San Marino. Betsy and Harry were married in 1962. After passing the bar in 1963, Harry entered the US Army as a commissioned officer, a first lieutenant. Harry rose to the rank of captain in 1964 and became the aide de camp to the commanding general of the US Army Intelligence Corps, Richard Collins.
In recent years, Harry played an important role in the 2021 publication of the second volume of Lawyers of Los Angeles: 1950-2020, written by Deputy District Attorney (ret), Kathleen Tuttle. Harry was an avid sportsman and enjoyed fishing, hunting, sailing, skiing with his family in Vail, Colorado, and attending Cal football games. The University of California, Berkeley remained important to Hathaway throughout his life. He served on the Board of Trustees and Executive Committee for the UC Berkeley Foundation, and he was a member of the Berkeley Fellows Honorary Society. Harry's family includes a number of Cal alumni - his wife Betsy, his son David, a granddaughter and his father.
Harry and Betsy raised three sons: twins Mark and Brian, and David. Harry is survived by his ons, two daughters-in-law, and four grandchildren.
Los Angeles Times, October 14, 2023