South Pasadena High School
Alumni Association - Classes of 1907-2020
In Memory
Ann Lynn Tait - Class Of 1956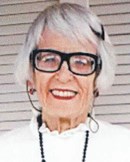 Ann L Tait, a long-time resident of Pasadena, succumbed December 9, 2016. She was born and raised locally and graduated from South Pasadena High School after which she enlisted in the United States Air Force rising to the rank of Master Sergeant. While stationed at Andrews Air Force Base she was in the honor guard for both President John F Kennedy's inauguration and funeral.
She returned to Pasadena after retirement and joined the Air National Guard as well as signing on with SoCal Edison as a lineman. She gave a loving home to many dogs and cats over the years in addition to raising several horses. She also enjoyed watching the horse racing at Santa Anita. Despite serious health issues she continued an active role in the community always doing things for others before herself. It is her wish that her estate be donated to several animal care groups and the Defense and Veterans Brain Injury Center of Palo Alto.
An independent woman of honor and toughness and kindness who will continue to watch over us. "AIM HIGH...FLY, FIGHT, WIN"
Pasadena Star-News, February 2, 2017