South Pasadena High School
Alumni Association - 1907-2020
In Memory
Brad Thurman - Class Of 1956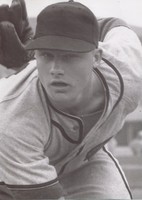 Brad C. Thurman, a graduate of South Pasadena High School Class of 1956, passed away peacefully surrounded by his family in Green Valley, Arizona on November 15, 2012. At SPHS Brad was an outstanding athlete who earned a varsity letter in football, basketball, and baseball. As a senior, his team won All CIF in baseball. Brad was later named to the "South Pasadena Athletic Wall of Fame."
After playing baseball for San Bernardino City College, he was selected by the Dodger organization and signed with a farm team in Bluefield, West Virginia. He served in the U.S. Army for two years and returned to enroll at UCLA, where he earned a bachelors and masters degree in Education in 1961.
After teaching science and coaching at Emerson Junior High School, he accepted a position at Corona del Mar High School, where he was baseball coach for 14 years. Eventually he moved to Ashland, Oregon and taught middle and high school science and coached wrestling and baseball. At retirement his family chose to move to Green Valley, Arizona, where he enjoyed the out-of-doors, swimming, and golfing.
Brad was a true outdoors man, who enjoyed backpacking, camping, and fishing. He was a tri-athlete and superb tennis player. As a coach he was revered by his players, many of whom contacted him expressing their appreciation and admiration of him during the final days of a valiant battle with acute leukemia. As a devout Christian, he participated in missions to Mexico and Kenya.
He is survived by his wife of 25 years, Marylynn; sons Mark Thurman, Scott (Crystal) Thurman, and Ben Thurman, daughter Ginger (John) Wohrman, step-daughters Briana (Danny) Shroy, and Brandi (Ty) Knott. He is additionally survived by his brother, Granvile (Dianne) Thurman (SPHS '49 & '52).
He will be missed by grandchildren Brittney and Cole Thurman, Raymond and Grant Wohrman, Cassie and Austin Shroy, Gavin, Reece, and Avarie Knott. Additional family members include nieces and nephews Michael (Michelle) Thurman (SPHS '75), David (Margaret) Thurman (SPHS '76), and Teresa (John) Koontz (SPHS '81) and grand nieces and nephews Taylor Thurman (SPHS '07), Aubrey Thurman (SPHS '09), Connor Thurman, Morgan Koontz and Dylan Koontz.
Husband, father, grandpa, brother, friend, teacher, coach, and mentor--we all will miss him.