South Pasadena High School
Alumni Association - Classes of 1907-2020
In Memory
Robert M Johnson - Class Of 1945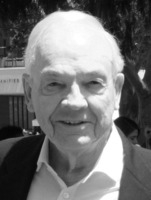 Robert 'Bob' Munro Johnson, resident of Mountain View, California, born June 19, 1927 in Los Angeles to Kirk and Gretchen Johnson; passed away on December 30, 2015 surrounded by his family. Raised in San Marino, Bob attended USC and was a member of Sigma Alpha Epsilon.
He served in the Army in Korea and the Reserves when he returned home. He spent his entire career with the FW Woolworth Company where he made life-long friends. His interests centered on his family, friends, church, sports, and travel. He will be remembered for the generous way he treated everyone, and for being one of the "good guys".
Bob was preceded in death by Joan, his wife of 59 years, his sister Evelyn, and his parents. He was father to Gayne Johnson and Kirk Johnson; grandfather to Owen Johnson, Simon Johnson, and Sam Johnson. Brother to Vivian Johnson Steere (SPHS '50); and Chief Walker to Tommy. Bob we will miss you every day and will keep your memory in our hearts forever.
San Jose Mercury News/San Mateo County Times, January 4, 2016