South Pasadena High School
Alumni Association - 1907-2021
In Memory
Leigh R Bolstad - Class Of 1949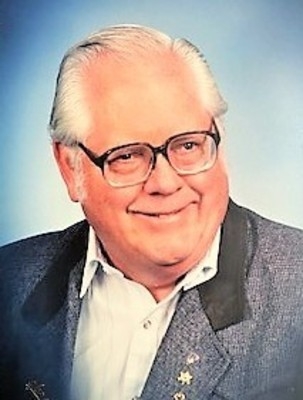 Leigh Roy Bolstad passed away on January 29, 2020, surrounded by family and friends. He was born on June 1, 1931 in Los Angeles to Roy and Gladys Bolstad. He spent his youth in San Marino, graduating from South Pasadena-San Marino High School. He received his AA in Business from Pasadena City College. Active in scouting, he enjoyed Cub as well as Sea Scouts. His true passion was tinkering with motors and rehabilitating old cars. In later years the local drag strip beaconed, adding exciting competition.
In June 1951, Leigh married the former Carol Jane Adams (SPHS '48). Two daughters soon arrived, Lisbeth and Julie, enriching their lives. He served in the US Army Reserves during and following the Korean War, attaining the rank of Sergeant First Class. His automotive passion led to a supervisory position with the Cadillac Motor Car Division of General Motors in Los Angeles. He prided himself on overseeing the crews that prepared these luxury cars for delivery to buyers.
In 1972, Leigh and his family relocated to Bella Vista. He purchased a Peterbilt truck, and as an independent trucker, hauled materials throughout the north state. As a Golden Member of the Sons of Norway, he showed his pride in his heritage, welcoming sociability with wonderful friends, holding many officer positions throughout the years. It is here that Leigh met the second love of his life, the late Opal Hill Carter Bolstad who he married in 1979, standing by her side, always, until her death. Lazy summer days found him picnicking on Lake Shasta or at Whiskeytown with family and friends. He enjoyed annual outings to Trinidad with Opal and trips to visit Opal's family in North Dakota.
Leigh will be remembered for his love of family life, for his dedicated support of Opal during her prolonged illness, and that his word was his bond. His sense of humor and spirit were evident in many a setting, especially over a piece of pie with friends. You knew where he stood on most matters, for he did not equivocate.
Leigh is survived by his brother Ronald (Marilyn) Bolstad; daughters Lisbeth (David) Rink and Julie (Larry) Tessier; six grandchildren, and many great-grandchildren and wonderful nieces and nephews.
Redding Record Searchlight, February 11, 2020