South Pasadena High School
Alumni Association - 1907-2021
In Memory
Barbara Lee Bostwick (Bair) - Class Of 1945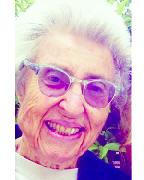 Barbara Bostwick Bair passed away peacefully at home, with family, on December 10, 2014. Born in Pasadena on October 24, 1927, she attended South Pasadena-San Marino High School, graduated in Biology from Occidental College, and worked in a corn genetics lab until she met her husband, Bill Bair at Pasadena Presbyterian Church Young Adult Group. Their love never ceased. Once the kids were in school, she devoted herself to making the world a better place.
Barbara volunteered at the Neighborhood Church Well Baby Clinic, she was a member of the task force that brought the first Certified Farmer's Market to Pasadena and she never stopped shopping the Farmers Market. An advocate for peace, she demonstrated against every US war since Vietnam. During the energy crisis, she worked to develop household energy audits with an All Saints Church environmental ministry. She earned an MA in Latin American Studies from Cal State LA in the 1980s. She was active in the ASC Central American ministry, in support of Central American immigrants, and traveled to Nicaragua, in support of coffee workers. At age 53, she was proud to have been arrested, along with other "church women," blocking deportation of Salvadoran refugees back to a dangerous civil war. Co-leading Sierra Club teenage family canoe trips with Bill, she made friends with whom she swam at Caltech, three days a week for decades.
In later years, she served on the Occidental College Board of Governors, volunteered with the NAMI San Gabriel Valley, Quality of Life Committee, and in South El Monte at the Savior Center food bank. She loved her Silver Sneakers classes at Gold's Gym, which she attended five days a week, right up to the last. Always in the background was her silent faith. What carried throughout everything she did, was her love for people and her irrepressible joy de vivre.
Barbara is survived by her brother, Jack Bostwick (SPHS '47); daughter Janice; son Alan; and her granddaughter, Willia.
Pasadena Star-News, December 20, 2014