South Pasadena High School
Alumni Association - 1907-2020
In Memory
Donald Elwood Crump - Class Of 1945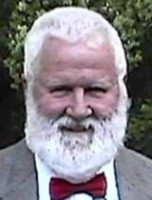 Donald E. Crump was born on October 5th, 1927 in Hollywood, California and passed away on October 26th, 2009. Don was known to his friends as "Bushy". He lived in Stockton, California for 55 years.
Bushy was raised in San Marino and Pasadena, California. He graduated from South Pasadena High. He served in Korea 1946-48 as a Sgt. in the US Army Corps of Engineers. In 1953 he graduated from the University of Oregon, School of Landscape Architecture. After graduation he practiced as a Landscape Architect in New York City; Dallas, Texas; and Stockton, California from 1954-1999. Bushy designed many projects throughout the state of California, one of which was the campus at the University of the Pacific in Stockton. He was a devoted member of the North Stockton Rotary Club for over 50 years, served as President (1972-73), founded two new Stockton Rotary Clubs, and was a Paul Harris Fellow.
Bushy was also active in the Greater Stockton Chamber of Commerce, the Boy Scouts of America, and was a Delta Blood Bank 20 gallon donor. He established the Five Mile Creek Raptor Center with his son Kit in 1981. They worked with over 3700 injured and orphaned birds of prey over a period of 20 years to rehabilitate them and to release them back into the wild.
Bushy was a positive thinking person with a smile for everyone. He loved to walk around his neighborhood and had a cheerful greeting for all. He loved to build projects with his children, and he loved playing with his grandchildren.
Bushy met his future wife Kathy in 1948 when they were students at the University of Oregon, and they were married in Oregon in 1950. Bushy is survived by his wife Kathy of 59 years, sister Evelyn and brother Armand, his two sons and their wives, Kit (Jeanne) and Ed (Monica), and his grandchildren Gabriel, Jan, and Sarah Crump and nine nieces and nephews.
North Stockton Rotary