South Pasadena High School
Alumni Association - 1907-2021
In Memory
Richard R. Grantham - Class Of 1945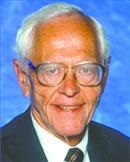 Richard Grantham, a San Marino resident since 1957, passed away May 22, 2016. He was 88. He is survived by his wife of 65 years, Charlotte, his son, Robert Grantham, his twin daughters, Ann Frey and Susan McElroy, six grandchildren, and one great-grandchild. His second son, Scott, preceded him in death.
Grantham began his business career in 1950 as an auditor for Price Waterhouse. He later held executive positions with Cyprus Mines Corporation, and with Trust Company of the West. Born July 25, 1927, Grantham was elected student body president of South Pasadena-San Marino High School. Upon graduation in 1945, he enlisted in the US Navy. Afterwards, he attended Claremont Men's College, where he also served as student body president. He graduated magna cum laude in 1950 with a BA in business and public administration. Grantham's commitment to his alma mater, CMC, was a lifetime affair. He served as a member of the Board of Trustees from 1965-2000, and as a Life Trustee beginning in 2001. In recognition of his support for CMC, Grantham received numerous honors, culminating in a Lifetime Service award in 2014.
Grantham was an avid recreational sailor and swimmer. For many years, he regularly swam laps in his backyard pool early in the morning before leaving for work. He also took up tennis at the age of 50, enjoying many, many games and sets with friends and family until finally giving up tennis in his late 70s. Music was also a passion of Grantham's. He served for a decade on the Pasadena Symphony Board from 1994-2004.
Pasadena Star-News, June 17, 2016