South Pasadena High School
Alumni Association - 1907-2021
In Memory
Ruth J Knoeppel (Wilcox) - Class Of 1949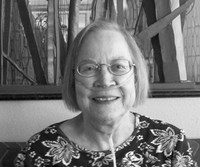 Ruth J. Wilcox, of Tampa, Florida and a longtime resident of Paso Robles, California, died on August 3, 2012. Ruth was born July 21, 1931 to John and Ruth Havenor Knoeppel. She married James G. Wilcox, Sr., coming to the area from southern California and living in the community from 1960-82. Ruth, who received her B.S. in social sciences from Colorado State University in 1965, worked for 20 years as a property manager for Con Am.
Ruth loved to travel and her trips across Asia in 1977 and 1980 were recounted in a long article published in the Paso Robles Press in 1981. She particularly loved Afghanistan and Kashmir and the trips spurred a lifelong interest in Middle Eastern Affairs. She will be missed by her family and many friends.
Ruth is survived by her sons, James G. Wilcox, Jr. (Diane) and John Wilcox (Toni); two grandchildren and one great-grandchild. She was preceded in death by her parents and twin brother John (SPHS '49).
Paso Robles Press, August 10, 2012