South Pasadena High School
Alumni Association - 1907-2020
In Memory
Mickey O'Hara - Class Of 1963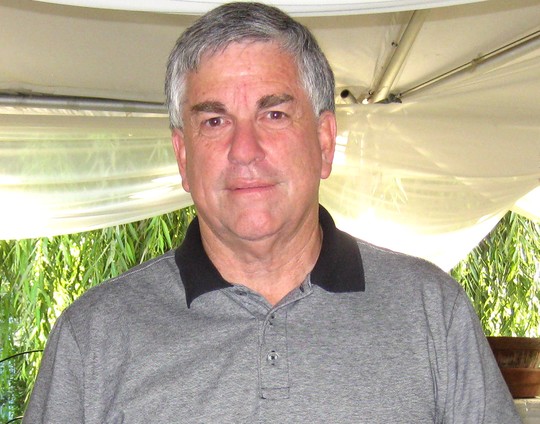 Michael 'Mickey' Patrick O'Hara passed away February 13, 2016, from a massive heart attack while riding on his bike with his wife Kathy on the Lario Bike Way near the mouth of Azusa Canyon. He was 70.
Mickey was born on June 10, 1945 at the Huntington Memorial Hospital in Pasadena to his parents Richard and Suzanne Fortier O'Hara and was their second son. He was baptized at St. Lucy's Catholic Church in Long Beach, California in 1945. They lived in Pasadena until 1950 when they moved to Altadena where Mickey attended Edison Elementary school. In 1955 they moved to South Pasadena and he attended Marengo Elementary, South Pasadena Junior High and later graduated from South Pasadena High School in1963. Mickey, as a pitcher, helped lead South Pasadena High school to a CIF Championship. In his senior year of high school, Mickey and his closest friend Dick Cook, hitch-hiked across the US without telling their parents. They still talk about that trip to this day. Mickey earned a baseball scholarship to the University of Arizona but had to transfer after a year due to a sports injury. He then majored in business at Pasadena City College where as a pitcher he lead them to two league baseball championships. Mickey was drafted into the Army in 1967 and served active duty in the Military Police for two years. He was honorably discharged in 1973 after serving in the standby reserves. After the army, Mickey returned to the University of Arizona in 1969 where he was a pitcher on the school's baseball team and in 1970 pitched at the college world series in Omaha.
He married Mary Kathleen (Kathy) Brannon O'Hara on June 17, 1972 at the San Gabriel Mission in California. At his passing they were married for 44 years. Throughout their life together, they participated in many 5K and 10K runs and several marathons. He finished his first marathon in Long Beach in 1982 and the Ironman Triathlon in Kona, Hawaii in 1989. In the early years of their marriage, Mickey and Kathy went on many road trips with their sons while towing a tent trailer and camping out at the various National Parks. He was a coach for his sons' baseball and soccer teams during their elementary school years and enjoyed watching them play when not coaching. The family enjoyed dirt bike riding in the high desert of California for many years. Later his grandchildren also participated in dirt bike riding with Tyler O'Hara winning first place in the 2009 National Champion in the AMA Supermoto Championship Series Intermediate. Mickey enjoyed watching his grandchildren play soccer, baseball, and run track. Mickey and Kathy enjoyed traveling and in their senior years they took several trips together. Most memorable amongst them were an Alaska trip, an African Safari, a trip down the Mississippi River on a paddlewheel boat. They also enjoyed road trips and took a trip to national parks in Arizona and Utah. He owned his own company, Mouse Menu, for 35 years which supplies printed products to restaurants. His grandson Tyler will continue the business.
Mickey is survived by his sons: Ryan Donovan (wife Melissa Suzanne) and Timothy Michael; grandchildren: Tyler Donovan, Wyatt Patrick, Caitland Suzanne, William Michael, Isabella Kathleen Marie; older brother Thomas Richard O'Hara (SPHS '59), and younger sister Kathleen Ellen O'Hara Arai (SPHS '74)