South Pasadena High School
Alumni Association - Classes of 1907-2020
In Memory
Robert H Conradt - Class Of 1943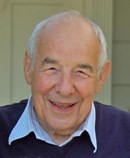 Robert Hugh Conradt (December 14, 1925 - April 12, 2015) was born in Quantico, Virginia to Dorothy and Pierson Conradt. In 1930, Bob, his mother, and his older sister relocated to Pasadena where he grew up, attending South Pasadena High School, and becoming an avid swimmer and developing a great love of music - most notably jazz. Upon graduating from high school, Bob enrolled in the V12 Navy College Training Program at the California Institute of Technology, where he earned a degree in Mechanical Engineering. During that time, he also drummed with a jazz group. Following Cal Tech, Bob entered Ensign training in Rhode Island on a US Navy cruiser. When World War II ended, he enrolled at Stanford University seeking to supplement his technical education with the humanities.
After Stanford, Bob wrote human interest stories for a Pasadena community newspaper until, in 1950, he married Marilynn Chadwick (SPHS '44). They moved to Taos, New Mexico on Bob's ambitions of becoming a writer. Bob took a job as a surveying assistant on a road building project with the New Mexico State Highway Department. That was the start of his illustrious career as a traffic engineer and transportation consultant. Bob advanced rapidly in the highway department and in 1953 he earned a scholarship to the Traffic Design School at Yale University.
In 1957, Bob and his family relocated to Northern California, settling in Marin County. Bob began his consulting career with noted consulting firm DeLeuw Cather in San Francisco, and earned assignments across the United States as well as in Australia, New Zealand, Canada, and South Africa. Along with leading project designs, Bob worked closely with other industry thinkers to advance the development of standards for highway planning and capacity. Bob's tenure with consulting firms continued until 1969 when he began to practice as an independent consult.
In 1974, Bob married Barbara Miller Harris whom he met in South Africa. Bob's independent consulting continued to 1996 when he joined the Bechtel Corporation and continued his work for another 15 years on major projects in the United States, Saudi Arabia, and South America. Bob was passionate about his work and the good that could be done. He was most proud of a New Orleans project in which he succeeded in convincing city leaders to adopt an alternative to a plan of building an elevated expressway through the French Quarter. For that, Bob was recognized with a key to the city.
Bob's life was rich with many passions, including his family. He was a music lover, a lifelong jazz aficionado, and he never lost his love for playing drums. He studied photography, art, literature, and poetry. He loved ice cream, crossword puzzles, and designing model airplanes. He loved football - especially the San Francisco 49ers and the Stanford Cardinals. He was a deep thinker, a storyteller with a quick wit, and a master of puns. He is greatly missed.
Bob was preceded in death by a daughter, Noel. He is survived by his wife, Barbara; his three sons, Christien, Robin, and Hans, daughter, Sarah; and 16 grandchildren and a great-granddaughter.
San Francisco Chronicle, June 19, 2016