South Pasadena High School
Alumni Association - 1907-2020
In Memory
Donald Allen Dunn - Class Of 1943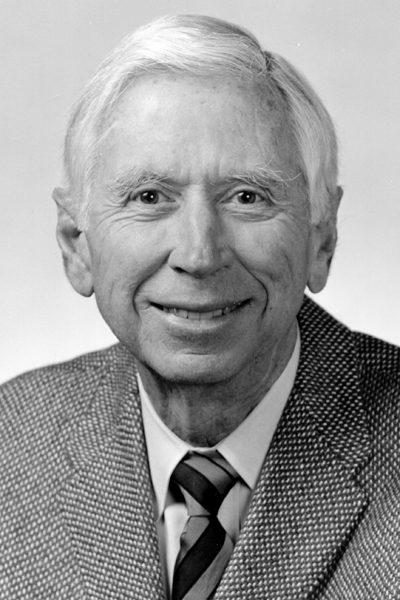 Professor Donald Dunn, a resident of Atherton, California for 50 years, died peacefully at Stanford Hospital on September 27, 2011, after a long illness. He was 85 years old. Don was a passionate teacher and innovator, frequently engaged in multiple fields of study and work contemporaneously. In the 1960s, Don was involved in the formation of a new department at Stanford, the Department of Engineering-Economic Systems (EES); Don was a professor and associate chair of EES for many years, retiring in 1995.
Born and raised in Southern California, Don attended South Pasadena-San Marino High, taking chemistry courses at Pasadena Junior College. In 1943, the Navy began enrolling officer candidates in its V-12 college training program. Dunn was admitted to Caltech, where he studied chemistry. He completed his naval service aboard a light cruiser and then went to Northern California to work for the electronics company Eitel-McCullough, where he eventually served as director of research. Next he attended Stanford Law School, and married Jane Goodspeed in 1948. He received the LL.B. degree from Stanford Law School in 1951 and was a member of the Bar of the state of California, practicing patent law for Hughes Aircraft in Los Angeles. He received his Ph.D. in electrical engineering from Stanford in 1956, worked in the tube lab at the Stanford Electronics Research Lab (ERL), and was a pioneer in the field of microwave tube research. He was a senior member and former chair of the San Francisco Section of the IEEE.
In Stanford's EES department, Dunn was an enthusiastic and inspirational teacher. Teaching was a crucial aspect of his life. He traveled widely both as a professor and consultant, often with his family. He particularly enjoyed visiting his graduate students in their home countries. Upon his retirement, Dunn spent time at the beach in Aptos. He continued to write and to advise students, and maintained a 40-year ritual of neighborhood runs and daily swims.
Don is survived by his wife of 63 years, Elizabeth Jane Dunn, his children, William Goodspeed Dunn and Dr. Elizabeth Ross Dunn, and two grandchildren.
Los Angeles Times, October 5, 2011