South Pasadena High School
Alumni Association - Classes of 1907-2020
In Memory
Maynard Garrison II - Class Of 1943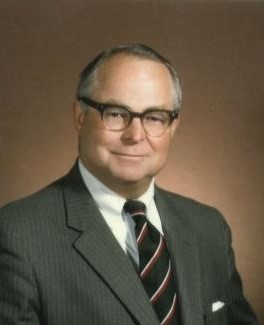 Maynard Garrison Jr passed away peacefully on January 6, 2019 at his nursing home after a lengthy battle of age-related issues and advanced dementia.
Born September 6, 1925, he was the only child of Maynard and Nathalie Needham Garrison. His formative years were spent in Pasadena. After graduating from South Pasadena High School, Maynard delayed his college education at Princeton University until after his service in the US Navy. Following World War II, Maynard studied US History and honed his golf skills on the Princeton golf team. He participated in the prestigious international Boyd-Quaich Memorial Golf Tournament and fell in love with the olde towne of St Andrews, Scotland - a love he would nurture for his entire life. After graduating from Princeton in 1950, he began law school at Stanford University. He finished his law degree at the University of San Francisco and practiced business law for some 40 years in San Francisco.
In 1959 he joined the San Francisco Golf Club; for 60 years he served as the club's longest living member until his recent death. He hit his best shot - a hole-in-one one the 17th hole at Pebble Beach in the Swallows Tournament in 1982, followed by two holes-in-one at SFGC. He served as the club historian throughout his membership. He had a love of vintage sports cars and spent summers in the 1970s and 1980s racing his Mercedes-Benz Gullwing and his Kurtis Kraft muscle car around the tracks at Sears Point Raceway and Laguna Seca as a member of the Classic Sports Car Racing Group.
He served on many boards during his lifetime including founding president and legal counsel for Quarryhill Botanical Garden in Sonoma and Edgewood Children's Home. He was a member of the Bohemian Club, the Royal & Ancient Golf Club in Scotland since 1982, and was a past president of Villa Taverna.
Later in his life, Maynard became a celebrated author and United States Constitutional scholar with his writings about 'America's Foremost Founding Father,' James Wilson of St Andrews - one of only six signers of both the Declaration of Independence and the Constitution. He was published by Liberty Fund and Colonial Williamsburg Press. He was honored at Montpelier, James Madison's home in Virginia in 2009, where he was invited to speak about James Wilson's important contributions to the Constitution and lasting impact on the founding of our Country. He was honored by the University of St Andrews, Scotland for his contributions on the subject. He spoke at an exclusive event during the University's 600th Anniversary festivities in 2013. A bronze plaque commemorating Maynard's scholarship and writings hangs in the entrance to the University of St Andrews Library. He was also influential in creating the James Wilson Scholarship for graduate students studying the US Constitution.
Maynard leaves behind his beloved wife of 53 years, Mary; daughters Libby (Richard Sloan, Peggy (James) Murphy; daughters Dodie and Mary from a previous marriage; and numerous grandchildren and great-grandchildren. He is preceded in death by his oldest daughter Leslie.
San Francisco Chronicle, January 9, 2019