South Pasadena High School
Alumni Association - Classes of 1907-2020
In Memory
George Dewey Elliott Hall - Class Of 1943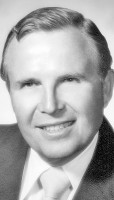 George Dewey Elliott Hall, age 83, passed away peacefully on June 12, 2009 surrounded by his loving family. He leaves his wife of 28 years, Pamela; his three children, son Marty and wife Kendyl; his daughter Suzanne Berry Ilgun and husband Koral Ilgun; son Rob Berry and wife Yolanda Berry, his granddaughters Jordyn Hall and Caitlin Berry and many close friends.
Born June 21, 1925 and raised in South Pasadena, he was the son of George Dewey Hall, Sr. and Margorie Hall. After graduating from South Pasadena High School in 1943, he joined the Army Air Corps and served as a bombardier during World War II. After the war, he attended the University of Southern California from 1946 to 1949 and was a member of the Sigma Phi Epsilon fraternity. After college, he joined Employers of Wausau Insurance, working in the Insurance business his entire career. He owned an independent brokerage firm in Ventura for many years before retiring.
Goerge supported the Ventura community avidly through the Ventura Lions Club, most passionately working with the Cottage Home Foundation and serving as Lions Club President from 1977-78.
George was married to Millie Johnson in 1948, they were married 32 years and had son Marty Hall. After her death, he married his loving wife of 28 years Pamela Hall. George had a true zest for life, a huge smile and many passionate interests: tennis every Wednesday with his longtime tennis friends, raising and caring for his orchids, traveling the world to such sites as Antarctica, China, Egypt, Japan, Fiji, Europe, Greece, and Africa; volunteering at the Braille Institute in Santa Barbara, tracing his family's genealogy, rooting for the USC Trojan football team, and driving his 1965 orange Ford Mustang convertible all around Ventura and Santa Barbara.
George will be deeply missed by all that knew him.
Ventura County Star, June 17, 2009