South Pasadena High School
Alumni Association - 1907-2020
In Memory
Edward William McKenzie - Class Of 1943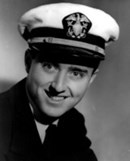 Edward W McKenzie, 94, of Danbury, Connecticut, husband of the late Rosemarie McKenzie, died August 8, 2019. He was born in Chicago, Illinois on July 19, 1925, son of the late Arthur and Ida (Bidwell) McKenzie. He was a graduate of the University of Michigan College of Engineering, the University of California, and did his post graduate work at Columbia University. He owned and operated McKenzie Engineering Company in Newtown, Connecticut for many years.
Edward was a Veteran of World War II and the Korean War, proudly serving with the US Navy aboard the SS DeLong. He was recruited and served time with the French Navy. Edward also enjoyed his time at the Brooklyn Naval Yard. He retired as a Commander after 40 plus years of total service.
Edward was a past member of the Newtown and Connecticut Jaycees, the Holy Name Society at St Gregory the Great Church, and the Disabled American Veterans. He enjoyed his monthly meetings at the Lions Club Low Vision Group in Danbury. He was proud to support his alma mater the University of Michigan. During his retirement he enjoyed gardening and reading. He loved to swim and was a Heritage Club Member of the YMCA.
He will be sadly missed by his five children, Elizabeth (Paul) Esposito, Robert (Michelle) McKenzie, Douglass (Carol) McKenzie, Mary (Gary) Nimer, and Laurie (Chris) White; 14 grandchildren and 12 great-grandchildren. He was predeceased by his son James McKenzie. Edward will be buried in Arlington National Cemetery in his dress whites.
News Times, August 14, 2019