South Pasadena High School
Alumni Association - 1907-2020
In Memory
Jack Reynolds Morley - Class Of 1943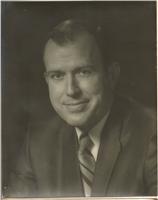 Jack Reynolds Morley (November 23, 1925 - October 17, 2013), who was chairman of FinanceAmerica Corp, formerly a wholly owned subsidiary of the Bank of America Corp, and who led many of the bank's businesses, later serving as chairman of Northern California Presbyterian Homes & Services, has died. He was 87. Jack passed away, surrounded by his wife, Dona, and family, at Community Hospital of Monterey Peninsula, from pneumonia and leukemia on October 17, 2013. He was a resident of Carmel, California.
Jack joined the Bank of America management training program in 1948, serving as lending officer, assistant manager, and as the bank's youngest manager at 29, at various Southern California branches. In 1960, he joined the bank's National Division as assistant vice president and then vice president in corporate finance. In 1964, Jack became president of the new Heritage National Bank in Westwood, California. He led the acquisition of Wilshire Bank, forming Heritage Wilshire National Bank, and the acquisition by First National Bank of San Diego, which became Southern California First National Bank. Morley returned to Bank of America as vice president, heading the Southern California office of its Small Business Enterprises Company in 1969. In 1970 he joined the Bank of America Corp in San Francisco as senior vice president, leading the BA Mortgage Company and the acquisition of 13 financial subsidiaries, including GAC Finance, renamed FinanceAmerica, in Allentown, Pennsylvania. He was named chairman of FinanceAmerica in 1976. In 1979, Morley became president/CEO of BA Insurance Company and BA Insurance Agency, retiring in 1983. He served Northern California Presbyterian Homes & Services 16 years, including as treasurer and chairman.
Born in Kansas City, Missouri and raised in San Marino, California, Jack graduated from South Pasadena High School, competing on the track and basketball teams. He is in the South Pasadena High School Hall of Fame. In World War II, he was in the US Navy V-12 officer training program and Navy ROTC. He earned bachelor's degrees in engineering and business from USC and he was Phi Kappa Psi fraternity president. He was a Navy officer in the Pacific before gaining a master's degree in business administration from USC in 1949. Jack was active in the California Institute for Cancer Research and American Red Cross, as a lay leader in the San Marino Community Church and First Presbyterian Church of Monterey, and an elder at First Presbyterian Church of Burlingame. He previously lived in Hillsborough, California. His parents were Fred and Grace (Morgan) Morley.
Jack and Dona Hickman Morley were married for 63 years and had four children: Cathy Morley Foster, Bob (Peggy) Morley, Judith (Chris) Callen, John (Alma) Morley; and 11 grandchildren and one great-granddaughter. He also leaves his brother, Sam (Toni) Morley (SPHS '50) and five nephews.
The Monterey County Herald, November 2, 2013