South Pasadena High School
Alumni Association - 1907-2020
In Memory
Richard Gordon Morse - Class Of 1943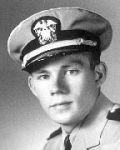 Richard "Dick" Morse, longtime Pacific Bell and AT&T Regional Vice President, passed away from congestive heart failure July 2, 2012 at his Long Beach home. He was 86.
During Morse's 40 year management career he oversaw the beginning of California's 911, TTY, and operator-free pay phone calling. He was also Pac Bell's liaison to Bell Labs, where he championed digital and cellular technology within the Bell system.
Morse graduated from South Pasadena High, Pomona College, and UC Berkeley. At age 19, he was commissioned as an officer in the U.S. Navy. Morse lived in Canyon Lake from 2001 to 2007, after residing in Arcadia, Del Mar, Tiburon, Sausalito, Incline Village, and Las Vegas. He lived the past five years in Long Beach. In most of these communities, he served on the charitable and civic boards, most prominently as President of local Lions Clubs and the Incline Village Chamber of Commerce. He also particularly enjoyed volunteering as a reading tutor to kids. An avid sailor, Morse loved racing his Cal 20 on San Francisco Bay, and served as Commodore of the Tiburon Yacht Club. He lived much of his life outdoors--hiking in the Sierras, scuba diving, waterskiing, bodysurfing, and teaching the blind to ski. With all that Morse did to serve the community, his greatest legacy is his love and devotion to family and friends.
Morse was preceded in death by his first wife Betty, and is survived by his wife of 28 years, Carole; children Rick, Bill, and Susie; stepson Larry; and one grandson.
Los Angeles Times, July 6, 2012