South Pasadena High School
Alumni Association - Classes of 1907-2020
In Memory
Paul Vallette Nerger - Class Of 1943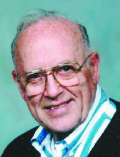 Paul Vallette Nerger, age 87, died December 31, 2011 surrounded by his children at Poudre Valley Hospital in Fort Collins, Colorado. Paul was born October 11, 1924 in Detroit, Michigan to Ruth (Robertson) and Vallette Nerger.
Paul is survived by his older sister Ruthellyn and was preceded in death by his three younger siblings, Carol Ann Jordan (SPHS '53), Robert (SPHS '50), and James. He was devoted to his family and loved his wife and soul mate, Marjorie Nelson Nerger more than life itself. He and Marjorie met in elementary school, married in 1946, and journeyed through life together for the past 65 years. They had two children, Paul and Janice. Paul and Marjorie moved to San Diego in 1956 and relocated to Fort Collins in 1999 to be near their children and grandchildren.
Paul served in the US Navy as an aviation mechanic from 1943-1946 and was stationed in Whidbey Island, Washington, the island of Attu, and Kodiak, Alaska during World War II. He earned his bachelor's degree in accounting from Woodbury University in 1951 and his JD degree from the University of San Diego in 1971. He was a proud Mason who believed in and lived by the Masonic teachings. He was an exceptional man who encouraged us all to "do your best and give a little of yourself in all that you do." He died as he lived - with integrity, pride, and courage. We will miss him.
San Diego Union-Tribune, January 8, 2012