South Pasadena High School
Alumni Association - Classes of 1907-2020
In Memory
Steven L Rose - Class Of 1943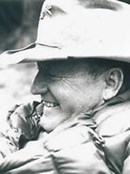 Steven L Rose, 92, of Paradise Valley, Arizona passed away on November 26, 2016. He was born August 31, 1924 in Alhambra, California. He was raised in Mazatlan, Mexico, Monrovia, California, Arizona, and Central America with his brother Dick (SPHS '40) and sister, Jane (both deceased). In 1939 the family moved to San Marino and he graduated from South Pasadena High School in 1943. During his high school years he played football and was an all CIF baseball player.
He joined the Army in 1943 and was with the 4th Infantry Division in the Normandy landing at Utah Beach. He fought in all of the major campaigns in Europe and was awarded two Silver Stars, three Bronze Stars with V clasp for Valor, three Purple Hearts and the French Cross of War as well as other awards. After the war he attended USC, was a member of Sigma Phi Epsilon fraternity and graduated with honors in 1949.
Steven was instrumental in the forming of the City of Commerce and founded other companies in both Chicago, Illinois and Bethesda, Maryland. During the Nixon Administration, Steven was asked to join the Advisory Board of the National Park Service. First, as Chairman of the natural areas and concessions committees and then served for two years as President of the Board. In 1964 he purchased the Biltmore Art Gallery in the Biltmore Hotel in Los Angeles, moving the Gallery to Scottsdale, Arizona where it remained the oldest exclusively Western art gallery until Steven's retirement in 2010. Even after his retirement, Steven was still considered the leading authority on Western art.
Steven was a lifelong adventurer and avid hunter. He was a member of the Jonathan Club in Los Angeles, Rancheros Vistadores in Santa Barbara, Adventures Club in Los Angeles, and founder and President of the Charlie Russell Riders, Bigfork, Montana, a riding and philanthropic organization.
He is survived by his wife Janet; daughter Katharine (Allan) Parigian of Ojai, California and his son, Kirke, of Phoenix, Arizona; and several nieces and nephews.
The Arizona Republic, December 4, 2016