South Pasadena High School
Alumni Association - 1907-2020
In Memory
Richard S Vanderhoof - Class Of 1943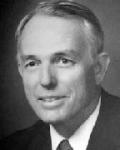 Richard Scovell Vanderhoof passed away December 4, 2013, from complications of congestive heart failure and pneumonia. Richard was a wonderful husband, father, grandfather, great-grandfather, friend, and colleague. His loved ones are deeply saddened by his passing.
Richard was born on August 21, 1925 to Ralph and Ruth Vanderhoof in Los Angeles, California. When Richard was eight years old in San Marino on Virginia Road, a new girl moved in next door, Marilyn McCormick (SPHS '44), age seven, who would become the love of his life. Richard excelled in school and was also very skilled at pole vaulting, holding the record at South Pasadena High School for several decades. During World War II, Richard entered college. He attended Pomona and Occidental Colleges and entered into a Naval Officer Training Program where he prepared to go to medical school. He graduated from Stanford Medical School and completed his general surgery residency at L.A. County-USC Medical Center. He and Marilyn were married on July 10, 1947.
Richard and Marilyn spent the first years of their marriage with the Navy in San Francisco, Texas, and San Diego. Later, they settled down in San Marino. They had five children - Jane, Linda, Mark, Mary, and Karen. Richard was a general surgeon at Arcadia Methodist Hospital for most of his career where he served many grateful patients. He enjoyed spending time with his family at the beach and in the mountains where he was active in sailing, water skiing, fishing, hiking, and camping. He and Marilyn also enjoyed spending time with their many friends. Later, they retired to Alamitos Bay in Long Beach. Richard was a very humble, generous, kind, patient, humorous, faithful, and loving man. He will be sorely missed.
Richard is survived by Marilyn, his beloved wife of 66 years; his children Jane (Peter), Linda, Mark (Janet), Mary (Ralph), and Karen (Terry); 11 grandchildren and one great-grandchild; and numerous nieces and nephews. He was preceded in death by his two brothers, Frank (SPHS '37) and William (SPHS '40).
Long Beach Press-Telegram, December 17, 2013