South Pasadena High School
Alumni Association - 1907-2020
In Memory
Burnell Hamilton DeVos Jr - Class Of 1944 VIEW PROFILE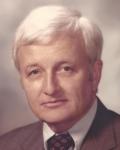 Burnell H DeVos, Jr (Dusty) of Pasadena, California passed away peacefully at home on February 12, 2014. Dusty was born January 19, 1927 in Los Angeles, California to Burnell and Constance Rowley DeVos. He attended grammar school in San Marino and graduated from South Pasadena-San Marino High School in 1944, Pomona College, Class of 1949, and the Stanford Graduate School of Business, Class of 1951.
He served in the 20th Air Force during World War II and the USNR during the Korean Conflict. He was truly a cherished member of the "Greatest Generation." Dusty distinguished himself by his exemplary career as a Certified Public Accountant. He joined the Los Angeles office of Price Waterhouse in 1951 where he remained - with the exception of a two-year tour of Nashville, Tennessee - until 1978 when his partners asked him to transfer to the firm's national office in New York City and assume duties as a Vice Chairman. Subsequently, Dusty became Co-Chairman and Deputy Senior Partner of Price Waterhouse, a position he held until he retired in June 1988.
Active particularly in the Southern California community, Dusty served as a Trustee and Trustee Emeritus of Pomona College, a Trustee of Flintridge Preparatory School, President and a Director of Town Hall of California, President and a Director of The University Club of Los Angeles, a Director of the California Society of CPAs, a member of LA Rotary #5, and on the boards, frequently as treasurer, of other community organizations. Dusty was a long-time member of the Valley Hunt Club in Pasadena, and had been a member of the California Club, the San Gabriel Country Club, the Greenwich Country Club in Connecticut, and El Dorado Country Club.
Dusty is survived by Bonnie, his wife of 64 years, two sons, Burnell III (and wife Jenny) and Douglas, as well as two grandchildren, Whitney (SPHS 2004) and Spencer (SPHS 2007). He is also survived by his brother, Richard of Ohio, and numerous nephews and nieces. Dusty will be lovingly remembered for his wit, wisdom, charm, creativity, sense of humor, and generosity.
Los Angeles Times, February 15, 2014
Click here to see Burnell Hamilton's last Profile entry.