South Pasadena High School
Alumni Association - 1907-2020
In Memory
Richard Patten Hamlin - Class Of 1944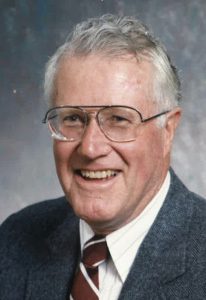 Dick, as he was known to his family and friends, a longtime resident of Pasadena, passed away November 9, 2019. He was 94. Dick was born in Los Angeles on October 12, 1925 to Thornton and Mabel Patten Hamlin. Dick attended Pasadena elementary and middle schools and San Marino-South Pasadena High School. He served in the United States Navy as a Seabee in the Pacific during World War II. After returning to civilian life, Dick attended the University of Michigan, where he earned a BS in Wood Technology and an MBA.
While In Michigan, Dick met Vera Sedlar and they married in 1955. Dick and Vera lived most of their lives together in Pasadena and raised two sons before Vera passed away in 1988. Dick and Susan Smiley Dixon '44 met at a San Marino-South Pasadena High School reunion. Susan had three children from her marriage to Lloyd Dixon, who had passed away in 1979. Dick and Susan were married in 1990. They enjoyed travel, golf, and their new extended family until her passing in 2011.
Dick is survived by children Greg and Karen Hamlin of Arcadia, and Ryan and Sarah Hamlin of South Pasadena; stepchildren, Lloyd and Elizabeth Dixon of Culver City, Leslie Dixon of Mill Valley, and Jeff and Liz Dixon of San Marino; 10 grandchildren, including Nolan Hamlin '05, Nick Hamlin '09, and David Hamlin '10; and one great-grandson. Dick was preceded in death by parents; his sister Mary Hamlin Azary '38; and his brother, Thornton Hamlin, Jr '42.
San Marino Tribune, November 22, 2019