South Pasadena High School
Alumni Association - Classes of 1907-2020
In Memory
Charles Thomas Hughes Jr - Class Of 1944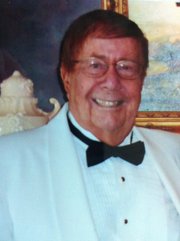 Charles T. Hughes, Jr. passed away May 2, 2011 at sea on a cruise ship near the island of Aruba. He was born on December 12, 1926 in Los Angeles, California.
As a young boy he read adventure stories and dreamed of seeing the world. He began realizing his dream when he joined the U.S. Navy during World War II. He spent time in Japan and China after the end of the war. After he was honorably discharged from the Navy, he took his A.A. degree from John Muir College and graduated with his B.A. degree in English Literature and Speech from Occidental College. He was a serious actor and singer who performed in numerous plays in college and private Christian films.
In 1952 he married the love of his life, Margie, who was with him on the cruise ship when he passed away. He was called to the Christian ministry and, after college, attended Fuller Theological Seminary where he graduated with a Master of Divinity degree. He went on to become the senior pastor at Chatsworth First Baptist Church, Western Avenue Baptist Church, Judson Baptist Church, and the First Baptist Church of Anaheim, where he served as Pastor for 24 years until he retired. He served a total of 41 years of active pastoral ministry. During his successful ministry, he performed countless weddings and funerals and took many people on numerous international tours, backpacks, and Christian camps. In addition, he served on the Christian Community Credit Union Board of Directors from 1967 to the present.
He was a born leader who always had powerful words of encouragement and inspiration for others. As a father, he was devoted to his four children. He taught them to love the Lord, and to enjoy reading, education, camping, backpacking, skiing, and world travel. He and Margie traveled to almost all corners of the world many times over. Now that he has met his Lord and those who have gone on before him, he is embarked on the greatest adventure of all. He is survived by his wife, daughter, three sons and their wives, seven grandchildren, and one sister and one brother, Robert (SPHS '49).
The Orange County Register, May 11, 2011