South Pasadena High School
Alumni Association - 1907-2021
In Memory
Dennis Stanton Avery - Class Of 1958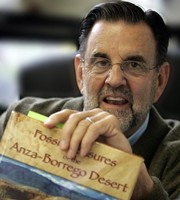 Philanthropist Dennis Avery, a hero of Borrego Springs and the Chinese-American community of San Diego, died July 23, 2012, surrounded by family and friends. He was 71.
Dennis, heir to the Avery Dennison label fortune but a self-made success on his own, used his money for scores of charitable causes, often giving anonymously worldwide. In Borrego Springs he bought 3,000 acres in the early 1990s to keep it from ever being developed. He called the land Galleta Meadows Estate and opened it to the public. Among the many things he gave to Borrego Springs were the football field lights, a Little League park, the Boys and Girls Club skatepark, and the Ocotillos that line the main street in town. But most of his charitable giving was done quietly, often anonymously. He offered financial support to clinics and foundations worldwide.
Sally Tsui Wong-Avery said her husband supported AIDS clinics in China, a library in Honduras, and a drug rehabilitation center in Hong Kong among many charitable causes. She said he put dozens of people through college and he did it all without ever seeking the limelight or congratulations.
Dennis was born October 23, 1940 in Los Angeles. He spent many years living in Borrego Springs where he raised his children. He was a retired attorney and graduate of Trinity Hall at the University of Cambridge, to which he also substantially donated over the years. He worked for the San Diego City Attorney's Office in the 1970s, was an associate dean at Cal Western School of Law in the 1980s, where he also earned his law degree.
Dennis is survived by his wife, Sally Tsui Wong-Avery; four children, Halina, Chris, Sara, and Theodore Avery; stepdaughter Natasha Wong; brother Russell Avery (SPHS '60) and sister Judith Avery (SPHS '54); and one granddaughter.
San Diego Union-Tribune, July 24, 2012